Denver Police: 3 people stabbed after Chargers-Broncos game
At least three people were stabbed after the Chargers-Broncos game on Thursday and one of the victims is in critical condition.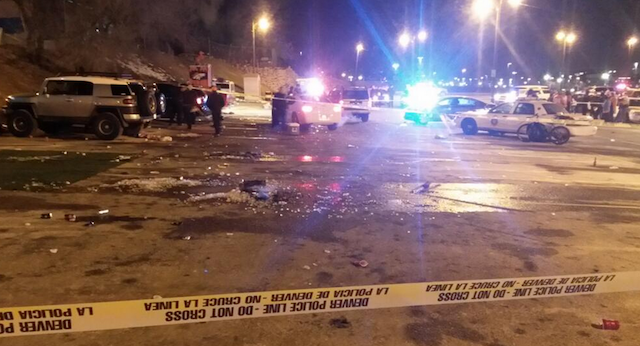 At least three people were stabbed outside of Sports Authority Field after the Chargers beat the Broncos on Thursday and one of the victims is in critical condition, according to the Denver Police Department.
A fourth person may have been stabbed but left the scene without seeking treatment.
The DPD's Twitter feed says that all suspects are in custody and that authorities aren't looking for anyone else involved with the incident. The stabbing was called into authorities around 9:55 p.m. local time.
Invesco Field's management released a statement late Thursday, "Stadium Management Company is aware of an incident that occurred in a parking lot adjacent to Sports Authority Field at Mile High," the statement said. "We are currently working with authorities to gather more information."
Video from quadruple stabbing at Sports Authority Field. https://t.co/uJqqrBn0IM

— Brian Ferguson (@BFerguson7News) December 13, 2013
Authorities haven't said if fans were involved and at this point, it's unknown what precipitated the incident. The picture of the crime scene comes from CBS 4 in Denver.
The stabbings come two weeks after a fan died at the Broncos game in Kansas City. The cause of death in that case is still unknown.
Show Comments
Hide Comments
Our Latest Stories
It was not exactly the most detailed play call in NFL history

New England's No. 1 corner has shadowed Brown each of the last two seasons

That's right, after Sunday, the Falcons and Steelers will square off in a surprising Super...
Dallas has a franchise QB, a permanent Tony Romo replacement, on hand if club doesn't screw...

The Cowboys safety was in disbelief like everyone else

Andrew Luck originally injured his shoulder during the 2015 season