DeSean Jackson will wear No. 11 in Washington, RG3 will keep 10
The number debate is over in Washington. RG3 will keep No. 10 and DeSean Jackson will wear 11.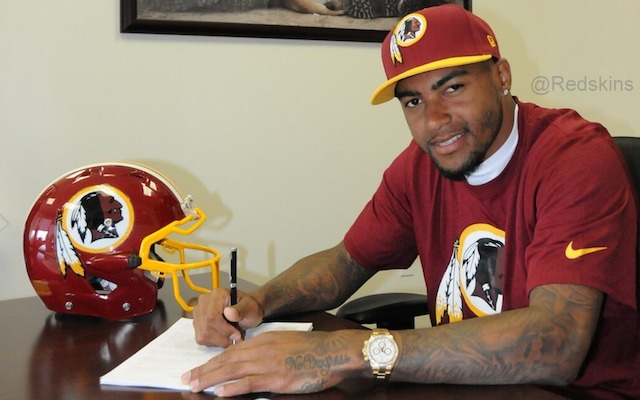 It looks like Robert Griffin III and DeSean Jackson won't have to arm-wrestle to see who gets to wear No. 10 in Washington. They were never going to arm-wrestle, but now they definitely don't have to because the Redskins have spoken. 
Washington's official team store started selling Jackson's jersey on Thursday and his number is 11. 
DeSean Jackson #11 #Redskins Jerseys: http://t.co/wlaCpzNtzI Available Now. #HTTR pic.twitter.com/OutIGbpy0r

— Redskins Team Store (@RedskinsStores) April 3, 2014
That means RG3 will keep 10, a number that he's had since high school. Not that Griffin had ever planned to give the number up.
Fans everywhere please calm down. Not changing my # @DeseanJackson10 will kick off his new beginning with us in a new one #HTTR

— Robert Griffin III (@RGIII) April 3, 2014
However, Jackson wanted RG3 to give the number up.
A small controversy broke out on Wednesday when Jackson said he was hoping that RG3 would switch numbers so Jackson could wear No. 10, "We talked about it a little bit, but there hasn't been a decision that's been made yet so far," Jackson said. "Maybe RG3 will wear No. 3 and I'll try to get 10. We'll see how it goes."
Jackson had worn No. 10 since his rookie year in 2008, but he'll definitely be making a change now.
The former Cal receiver wore No. 1 in college, but under NFL rules, he's not allowed to wear that. Wide receivers have 20 options when it comes to jersey numbers: they can either wear a number between 10 and 19 or a number between 80 and 89.
Now that Jackson's No. 11, the big loser seems to be Redskins wide receiver Aldrick Robinson, who's giving up the number for his new teammate. 
Guess I gotta swag it out in #15 this year #AR15

— Aldrick Robinson (@AldrickRobinson) April 2, 2014
Show Comments
Hide Comments
Our Latest Stories
Dak Prescott was also on hand for Elliott's dance show

This future groom has decided to take his fiancee's last name

Pat McAfee definitely is not a big fan of Ryan Grigson
Check here for the latest news, rumors and updates for NFL coaching changes and searches

The Colts are shaking up their front office

The Raiders quarterback is using his Twitter account to help fight crime