Dez Bryant: Tyrann Mathieu is 'best player in the draft'
Cowboys receiver Dez Bryant thinks he knows the top talent in this year's NFL Draft. That would be former LSU cornerback Tyrann Mathieu.
• 1 min read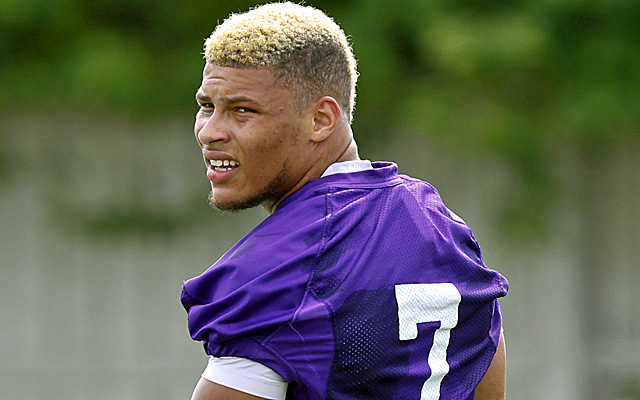 As we get ever-so-much closer to discovering whom the Chiefs will take with the No. 1 overall pick in the 2013 NFL Draft -- will it be Luke Joeckel, Eric Fisher or a defensive player? -- it most likely won't be the right decision according to Cowboys receiver Dez Bryant.
That's because Bryant's top player isn't likely to go in the first round -- and also won't be throwing himself a shindig afterward, either.
So, who is Bryant's top player?


A lot of great players in this draft but @mathieu_era is the best player in the draft.. You can say whatever you want about him #gamechanger

— Dez Bryant (@DezBryant) April 25, 2013


Bryant went on to explain his love for former LSU cornerback Tyrann Mathieu in this way on Twitter: "I'm not saying what i say matters...I'm just giving my opinion on this draft like everyone else" and "Damn I didn't know I couldn't have an opinion... people are funny lol."
I imagine Bryant is probably one of the few observers who believes that Mathieu -- who might have failed at least 10 drug tests while in school -- is the top talent in the draft.
For example, NFLDraftScout.com ranks him as the 10th-best cornerback prospect in the draft and predicts that he'll go in either the second or third round. Some say his character issues might push him down the draft boards even lower.
"Mathieu's skills have never been the issue," CBSSports.com's Evan Hilbert wrote. "A ballhawk while at LSU, Mathieu was the recipient of the 2011 Chuck Bednarik Award, which is given to the nation's top collegiate defender. He was later dismissed from LSU for violating team rules, and he entered a Houston rehab center for help managing his marijuana use. And thus, his draft stock plummeted. Still, if Mathieu can convince teams he can keep his behavior in check, he could be a late-round steal. Or he could be a first-round pick. In this draft, it's hard to tell."
Apparently not in the eyes of Bryant.
Show Comments
Hide Comments
The Steelers quarterback is focused on 2017 now

The former 49ers coach admits it was his fault

Johnson talked to Roger Goodell a few times before the rule change on TD celebrations was...
Franchise QBs are the only road to success nowadays; unfortunately, they're impossible to...

The wide receiver isn't in the best shape of his life after a down 2016 season

Colleen Smith joins Jen Welter and Kathryn Smith as women who have held NFL coaching posit...