Did gym employee overreact by calling 911 on Kam Chancellor?
Seahawks safety Kam Chancellor was in Redmond, Wash., earlier this week because he was thinking about opening a gym in the area. But he didn't get far.
Seahawks safety Kam Chancellor was in Redmond, Wash., earlier this week because he was thinking about opening a gym in the area. But he didn't get far; when he and several friends went to check out the Redmond Athletics Club, which had shut down recently, a female gym employee called police.
Chancellor explained his side of the story during an interview with Seattle's 99.1 FM.
"The first thing the lady did was look at us with an evil, devil look and shooed us off," Chancellor said, via ESPN.com. "We were like, 'Can we just get information? That's all.' We don't want to do anything else but get information. We didn't knock on the door anymore after that. We just waved them like, 'Could you please come here?' But they decided to stand 10 to 15 yards away behind a desk, saying, 'We're going to call the cops.'"
And that's exactly what happened.
In the 911 call, the woman describes Chancellor and his friends as "bad news," adding, "I don't know if they're homeless kids. I know that there used to be a lot of heroin addicts around here."
Chancellor wasn't arrested, and the Seattle Times reports that policed called the incident a "misunderstanding." According to Becky Range, the public information officer for the Redmond Police Department, "(The officers) said, 'Hey, what's going on?' and that's when [Chancellor's] group said they were just here to check out the facility. They were really easy to talk to, and they said our officers were really nice and they left without incident and no police report was filed."
The 911 call was all I needed to hear.. Thank you Lord for the truth. Read between the lines.

— Kameron (@Kam_Chancellor) March 5, 2016
Chancellor added, "I'm not speaking for myself anymore. I'm tired of hearing these stories. We are all equal. When we die we go into the same box. ... Character over Color. Let's learn patience and understanding."
Redmond Mayor John Marchione took to Twitter to apologize to the Seahawks safety.
@Kam_Chancellor-sorry about your negative experience today. Come back to Redmond and I'll buy you lunch and show you other sites for a gym.

— John Marchione (@jmarchione9) March 3, 2016
Ryan Neal, the owner of the gym, reached out to Chancellor to discuss any sale of the gym. But Neal also released a statement saying his employees acted appropriately.
"I have confirmed with Redmond PD that our employee response was appropriate given the situation, but we are nevertheless conducting a review of the security footage to ensure their response was appropriate," Neal wrote. "As the owner of the Redmond Athletic Club, I have attempted to reach out to Mr. Chancellor to discuss his interest in the purchase of the club in a traditional business discussion. If Mr. Chancellor or anyone else is interested in the club or our equipment, they can reach out to me directly or attend our public auction in April."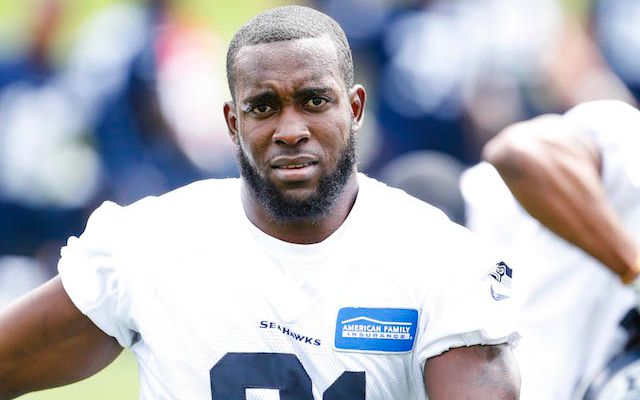 Show Comments
Hide Comments
Our Latest Stories
The Texans' sackmaster appeared to have recovered from offseason surgery and didn't miss a...

Long snapper Kameron Canaday is a free agent after his latest mistake

The Patriots have one more game to endure without Tom Brady
Donald Trump told Colin Kaepernick to leave the country a month ago

The Browns also can't wait on DeShone Kizer, taking the Notre Dame QB at No. 1

Bell will play in his first game after serving his three-game suspension