Do NOT throw a football at Chargers tailgate, because it's illegal
One Chargers fan found this out the hard way: it's illegal to throw a football at a Chargers tailgate.
• 1 min read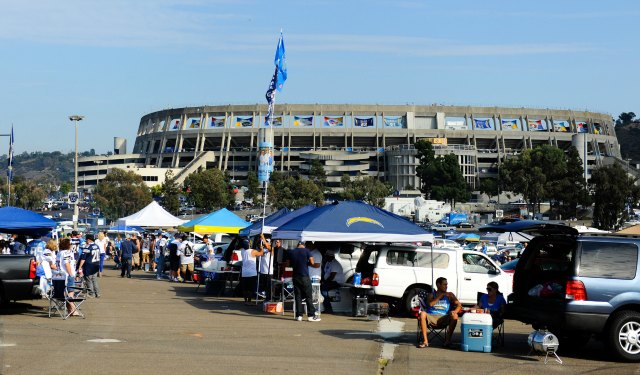 If you head out to a Chargers tailgate, feel free to cook up some sausages, stuff your face with everything that's delicious and unhealthy, and drink some adult beverages. But what you must not do -- what you are prohibited by law from doing -- is throw a football in the parking lot.
Haha. No seriously, that's against the law, as a 27-year-old Chargers fan named Jesse Unger found out when he was ticketed for doing so and then was charged a $280 fine as punishment.
As UT San Diego tells the story, Unger was tossing the ball before the Colts-Chargers game last month when two policemen approached and told him to halt. He thought they were joking, and he continued playing catch.
But it turns out there really is a rule against it. It's, in fact, the first rule on the city's Parking Lot Policies and Procedures web page (that apparently is a real thing, by the way).
The paper writes, "The actual law, per San Diego Municipal Code 59.0502, says that one cannot 'intentionally throw, discharge, launch or spill any solid object (including footballs, baseballs, frisbees and other such devices) or liquid substance or otherwise cause subject or substance to be thrown, discharged, launched, spilled, or to become airborne.'"
So, guilty as charged, right?
Well, yeah. Except the judge declared that if Unger pleaded guilty, the judge would suspend the $75 fine. Unger pointed out that online, it said he owed $280. From the paper:
"But the ticket is for $280 according to the court documents, Your Honor" Unger replied.

"Yes, but I think that is just ridiculous," responded the judge.

"You and me both," Unger muttered back.
That makes three of us.
Follow Josh Katzowitz on Google+
Show Comments
Hide Comments
Our Latest Stories
Credit Mike McIntyre for developing the talent needed to catch scouts' attention in this t...

The Browns quarterback took to Twitter to discuss his personal life

Broncos GM John Elway doesn't sound like he has any regrets about letting Brock Osweiler get...
The Division-III left tackle transfer is quickly proving he has a future in the NFL

Clay Matthews and Morgan Burnett join Sam Shields as out, while two others are now doubtfu...

The former NFL wide receiver has some strong opinions on the commissioner