Dolphins CB Brent Grimes on possible new deal: 'I'm pretty optimistic'
During his contract talks with the Dolphins, cornerback Brent Grimes said they haven't brought up the possibility of tagging him.
• 1 min read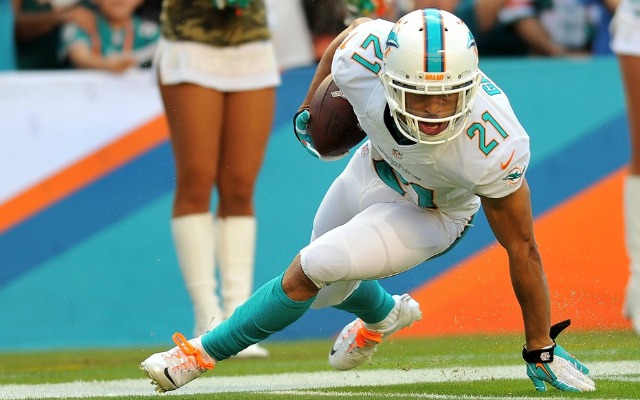 We already know how Dolphins cornerback Brent Grimes feels about Miami potentially franchise-tagging him (he's, ahem, not interested). Despite the estimate that cornerbacks will receive a one-year salary of $11.3 million if they're tagged, Grimes has said in the past that the tag is not what anybody wants.
So, he must feel pretty good when he says this when discussing a potential new contract with the Dolphins.
"I'm pretty optimistic," Grimes told the Miami Herald. "They said they like me here and want to have me back. Hopefully, it happens sooner than later, and I don't have to worry about it."
Grimes had a strong season in 2013 after missing most of the 2012 season with a torn Achilles tendon. Because of his injury, he signed a one-year, $5.5 million deal with Miami, and Grimes performed as one of the best cornerbacks in the league.
Now, he wants to get paid like one.
"I've been tendered. I've been franchised. I've been hurt and had to play for what I could get. That's my story. Nothing I can really do about it but just keep playing," Grimes said in December. "Hopefully it works out for me, finally."
The tag is still a possibility, though. The period to franchise a player opened last week and remains open until next Monday. But Grimes said the team hasn't brought up the possibility during negotiations, so perhaps the Dolphins don't want to use it either.
Show Comments
Hide Comments
The Cardinals, however, don't sound enthused about his return

According to NFL Network's Michael Silver, the Browns might want to trade up to draft a franchise...

The projected top-20 pick could fall out of the draft with teams having little time to gather...
Bryant will have his progress reviewed again before the coming season

From Jadeveon Clowney to Odell Beckham, here's the option year prognosis for each 2014 first-round...

Gruden's team took Cadillac Williams instead of Rodgers in the 2005 NFL Draft