Dolphins GM Jeff Ireland uses profanity at fan; encounter inspires T-shirt
Jeff Ireland doesn't always say or do the right thing at the right time. We've seen that over and over as the Dolphins continue to be a disaster since Ireland took over as GM in 2008.
• 2 min read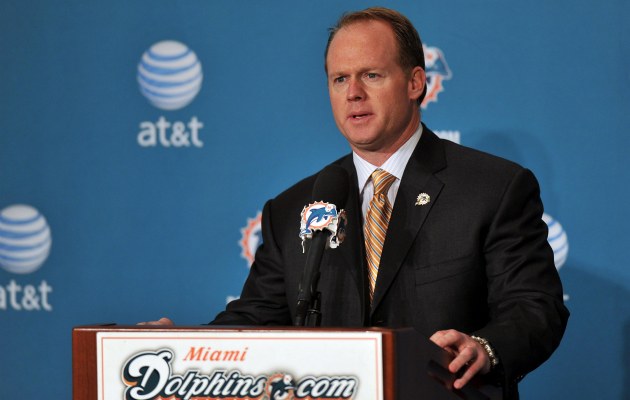 Jeff Ireland has admitted to using a profanity while walking away from a fan. (US Presswire)
Jeff Ireland doesn't always say or do the right thing at the right time. We've seen that over and over as the Dolphins continue to be a disaster since Ireland took over as general manager in 2008.
After an 11-5 finish that season, the Dolphins have put together three consecutive losing seasons and have drafted such luminaries as Chad Henne, Vontae Davis, Pat White and Jared Odrick in the first two rounds. Ireland once asked Dez Bryant in a predraft interview whether his mother was a prostitute, and, frankly, it's a bit surprising that Dolphins owner Stephen Ross hasn't fired him by now (not necessarily for his brusque questioning but for his job performance).
Now, Ireland, by his own admission, has called a fan an "ass----."
According to the Miami Herald, numerous fans called a local radio station to talk about Sunday's exchange. A fan named Sean, apparently the antagonist, spotted Ireland walking through the stadium's concourse last Sunday. Ireland shook the hands of other fans, posed for pictures and signed autographs. But when Sean called him over, he told Ireland, "We need you to fire yourself."
That's when Ireland used the profanity. According to Sean, Ireland patted him on the shoulder, said, "Good one," and then called him an "ass----" while walking away.
"I don't begrudge the guy for not appreciating what I had to say," Sean told the station. "I can't tell you I wouldn't respond any differently if someone said I should fire myself. By the same token, I'm not the general manager of a professional football team.
"I feel like I expressed an opinion he probably needed to hear."
This is what Ireland told Armando Salguero of the Herald:
"It did happen at halftime and I was going back to my booth after seeing my wife and I did talk to several fans that were very nice. But as I'm walking back, this guy introduces himself to me and says I should fire myself.
"It caught me off guard. I just turned and walked away, but I did say the word. I regret I used the word I used. I thought I was using it under my breath. I guess I kind of said it loud enough that he could hear it. I literally said it under my breath. At the time, I felt I handled the situation pretty good. Probably muttered it a little too loud. I regret that I said anything."
And you have to wonder how this incident will play with Ross -- who, up until this point, has been Ireland's biggest supporter.
Either way, here's the T-shirt that Ireland's encounter with the fan has inspired.
Ireland has inspired a catchphrase. (@itsleooo)

For more NFL news, rumors and analysis, follow @EyeOnNFL on Twitter, and subscribe to our Pick-6 Podcast and NFL newsletter. You can follow Josh Katzowitz on Twitter here: @joshkatzowitz.
Show Comments
Hide Comments
The Steelers quarterback is focused on 2017 now

The former 49ers coach admits it was his fault

Johnson talked to Roger Goodell a few times before the rule change on TD celebrations was...
Franchise QBs are the only road to success nowadays; unfortunately, they're impossible to...

The wide receiver isn't in the best shape of his life after a down 2016 season

Colleen Smith joins Jen Welter and Kathryn Smith as women who have held NFL coaching posit...