Dolphins line coach Jim Turner could face stern punishment
No one comes off looking good in Ted Wells' report on the Richie Incognito-Jonathan Martin sage. But OL coach Jim Turner fared the worst
• 3 min read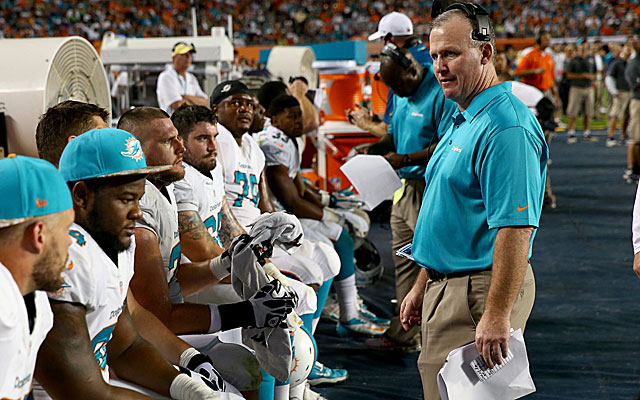 No one is coming out of this Ted Wells report looking rosy, but one person who is likely to face increasingly swift and severe punishment is Dolphins (for now) offensive line coach Jim Turner.
Of all of the individuals named in the report, given Turner's position of authority, his role as an extension of team management, and the allegations leveled against him, I have a hard time thinking commissioner Roger Goodell is not swift and stern with his punishment.
Remember one thing with Goodell: It's often the coverup that's worse than the crime. Goodell is less than forgiving in instances where someone has a chance to come clean, accept some responsibility and aid in an overall investigation.
Wells, held in high regard by the league office, stops just short of labeling Turner as a liar and a ringleader in creating the culture that allowed this Richie Incognito/Jonathan Martin saga to fester. Turner, repeatedly, denies knowledge of any of the racially insensitive and homophobic language that was clearly being tossed around all over the place among the players in his position group. He claims he can't remember whether he purchased a male blow-up doll for one of his players who was repeatedly called a "faggot" by his teammates.
Sorry, that's not gonna fly with the suits at 345 Park Avenue.
First of all, it's a pretty lame cop-out -- you can't remember a gag Christmas gift from less than two years ago? Yet several players, including Incognito, say it took place. And you don't have any idea about the kind of language being used, yet Incognito sent texts to others saying that Turner was "in on" the kind of tactics being used. Players also point to Turner as being behind a mantra in Miami that "snitching" would not be tolerated. Consider the following from the report:
"Sometimes, a fine would be levied on a lineman who was branded a 'Judas,' meaning a traitor or 'snitch.' For example, if Coach Turner, while watching game film footage, criticized a lineman for missing an assignment, and that lineman pointed out that one of his teammates was actually at fault, that lineman might be labeled a 'Judas,' which could result in a fellow player imposing a fine.
"Multiple Dolphins offensive linemen were familiar with the 'Judas' concept and told us that Coach Turner had discussed it with them. Turner, however, denied knowing what the term 'Judas' meant in the context of the Dolphins offensive line. In fact, he denied ever hearing the term 'Judas' or 'Judas fine' used in the offensive line room. He also denied lecturing players on its meaning. We do not credit Turner's denials. The evidence shows that Turner was aware of the 'Judas' concept and that he had discussed its meaning with the linemen, explaining how Judas had betrayed Jesus Christ and defining Judas as a 'snitch.' Further, Chris Mosley, the Dolphins former assistant offensive line coach, claimed that Turner actually introduced the Judas concept to the offensive linemen."
I anticipate there being fines, and perhaps a loss of a draft pick, coming for the Dolphins organization on the whole. Head coach Joe Philbin comes off as asleep at the wheel at best, though I don't anticipate him getting the kind of discipline I could see coming for Turner.
We already knew Martin was going to have a difficult time finding his way back to the NFL, and Incognito could well end up looking at a hefty suspension himself rather than be testing the free agent waters next month. I wonder if the Dolphins pump the brakes on contract-extension talks with center Mike Pouncey given the findings in this report (with three years in the league he was in line for a big-time raise given his superior play on the field).
Owner Stephen Ross has been less than proactive throughout the process, and was ever-willing to defer to the league office once the crap really started hitting the fan on this thing, so I'm not sure how much he races to get out in front of anything by starting to suspend or fire people on his own. Ross did make it clear to all employees how seriously he was taking this investigation and how honest and forthcoming he expected them all to be in their participation with Wells.
None of this bodes well for Turner.
Show Comments
Hide Comments
Pete Prisco grades every second-round pick of the 2017 NFL Draft

The Panthers take Samuel one round after grabbing Christian McCaffrey

Philip Rivers is really going to like this pick
That was some fancy work by the Seahawks during the early part of the draft

The Bills moved up seven spots to grab another wide receiver to go with Sammy Watkins

The Cardinals replace Tony Jefferson with Budda Baker