Dolphins owner Stephen Ross gives Michigan $200 million
Good for Stephen Ross pledging $200 million to the University of Michigan. But why can't the Dolphins owner privately fund a new stadium?
• 2 min read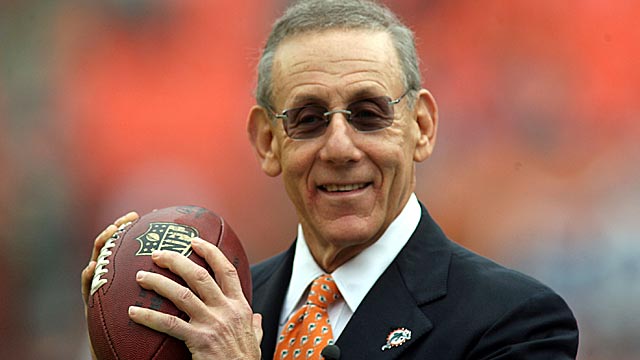 Dolphins owner Stephen Ross is a charitable chap, and it's newsworthy that, via CBS Detroit, he's pledged $200 million to the University of Michigan for its business and athletic programs.
"The University of Michigan had a profound impact on my life and I have received enormous satisfaction from being able to give back to the institution that played such a critical role in my success," Ross said in a statement.
"I am thrilled to be able to make such an impactful contribution and to not only help write the next chapter for the university, but also offer much-needed scholarships to ensure we continue to attract the best and the brightest students and provide them with the financial resources they need."
All of that is great. Education is important, and if you've got any cash left over, supporting an athletic program is a commendable move to make.
But lest you forget, Ross wants the public to fund part of a potential new stadium for his team, and at this point, he's not willing to back down from that idea.
As the South Florida area geared up to try to win the hosting job for Super Bowl L or Super Bowl LI, the Dolphins organization tried its best to broker an agreement that would allow an imperative new stadium to be built, in part, with public financing.
The Florida state legislature, though, decided not to act on that potential, and without an agreement in place, the NFL gave those Super Bowls to San Francisco and Houston, respectively.
Afterward, here's what Ross said: "I can't do it alone -- I think I went out further than any owner's ever gone out in offering to a city to really put up money and deliver a new, modernized stadium. So I think I'm going to have to do it with local people -- I think they'll realize the weather alone won't bring marquee events."
Ross later was asked if he'd be willing to finance the stadium with private funds solely, and basically, Ross said no.
Again, I think it's wonderful that Ross enjoys giving his money to causes and people who need it. But he's also worth about $4 billion, and I still can't figure out why he can't fund a new stadium by himself if a new stadium is what he really wants.


Follow Josh Katzowitz on Google+
Show Comments
Hide Comments
Four defensive backs are picked in the final five spots of the first round in Rob Rang's final...

The last version of Will Brinson's 2017 NFL Mock Draft sees the Chiefs land their new franchise...

Character has become such a concern for draft prospects that scouts spend a majority of their...
Also, expect Haason Reddick to go higher than expected and Reuben Foster to be taken on Th...

Plus the Cowboys and Steelers find new cornerbacks late in the first round in Dane Brugler's...

The league appears fully prepared if the Browns decide to pull off a few unexpected trades