Dolphins wanted Jonathan Martin back, his agents rebuffed offer
The Miami Dolphins expressed interest in Jonathan Martin returning to the team during their combine meeting with his agents, according to league sources.
• 2 min read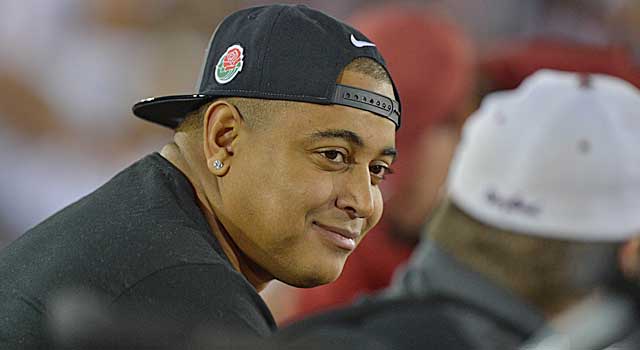 More NFL: Tannehill: Mess behind Dolphins | Latest news | Latest mock drafts
The Miami Dolphins expressed interest in Jonathan Martin returning to the team during their combine meeting with his agents, according to league sources.
The agents for Dolphins tackle Jonathan Martin met with Dolphins VP of football operations Dawn Aponte, new GM Dennis Hickey and coach Joe Philbin at the combine to discuss Martin's future with the club, sources said, at which time it was conveyed to the team that Martin was not comfortable returning.
Hickey expressed the desire for the team to keep him. Martin, a starting tackle for them prior to him leaving the team amid behavior that now has the Dolphins poised for penalties from the Wells Report remains under contract at modest sums as part of his rookie compensation. But given all the turmoil, Martin's advisors believe it best if he continue his career elsewhere and he has no intentions of playing there.
Hickey did most of the talking from Miami's side, according to sources, with Philbin "staring daggers" across the room. At the end of the meeting, however, sources said Philbin expressed his belief that Martin's agents were responsible for Miami's locker room controversy reaching this point, that they were the real problem and alluding that Martin's concerns could have been kept more private and handled differently.
The Dolphins indicated that Philbin was in "listening mode" during the meeting and not making statements of any kind. The team reiterated its stance that no final decision has been made on Martin's status either way for 2014 and that this meeting was a first step in that process.
Agent Rick Smith, from Martin's agency, said the following: "We have no idea where you got your information, but you weren't even close. We'd appreciate it if everyone backed off and allowed the process to happen organically."
Martin has not opted to sue the team or the league and wants to continue his playing career. The NFL has yet to hand down its discipline resulting from the Wells Report, but Miami recently fired its offensive line coach and head athletic trainer as fallout from the report.
Miami is in the market for several offensive linemen -- tackles and guards -- with its offensive line in need of a total rebuild. The team also has a potentially tricky situation on its hands with star center Mike Pouncey, who has outplayed his rookie deal and is worthy of a top five contract at his position, but who also is a key figure in the Wells Report.
Show Comments
Hide Comments
Todd Bowles previously assigned a vague deadline for Ryan Fitzpatrick to return as the sta...

Adrian Peterson, Golden Tate and Pernell McPhee are among the non-Packers standouts

Dockett racked up the seventh-most sacks in franchise history
After a forgettable 2015 season, the Colts are ready for a do-over

Hopkins tied for the league-lead in receptions last year

Brady also won't even be able to discuss anything football-related with teammates, per NFL...