Dolphins WR Wallace: I should've had 15-20 more TDs in 2013
Mike Wallace had a decent first year in Miami, but he says it could have been better. Wallace thinks he should have scored 15 or 20 more touchdowns in 2013.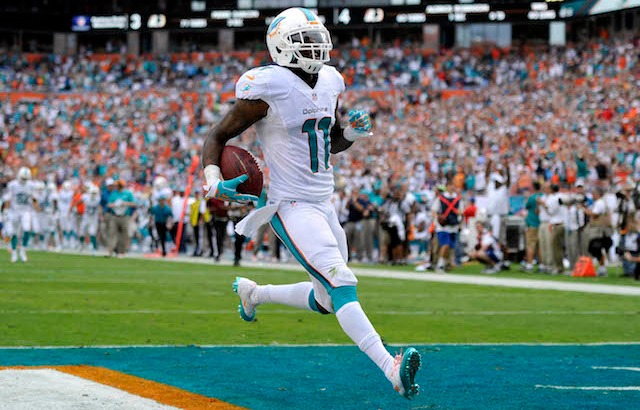 If the Miami Dolphins want to be better in 2014 than they were in 2013, Mike Wallace has a solution: Throw more touchdown passes to Mike Wallace. In his first year with the Dolphins, Wallace caught five touchdown passes, but he said that number could have been higher -- a lot higher -- and those touchdown passes can be the difference 'winning and losing a couple games.'
"I should have had 15 or 20 more touchdowns," Wallace said, via the Miami Herald. "And that's being modest. If you press me, you have no shot to cover me. Once I get you to stop your feet, it's over."
If Wallace would have had 20 more touchdown catches in 2013, we'd be looking at the NFL's new record-holder for touchdown receptions in a season. Twenty more touchdowns would have given Wallace 25 for the year, breaking Randy Moss' single-season record of 23. 
Wallace also thinks the team needs to start throwing the ball deep more, "We have to," he said. "Definitely have got to get the deep ball going. That's the difference between winning and losing a couple games."
It's interesting that Wallace says the deep ball is 'difference between winning and losing a couple games' because if the Dolphins would have won just one more game they would have made the playoffs this season. Mike Wallace's new motto: If you want to make the playoffs, throw the ball to Mike Wallace.
Show Comments
Hide Comments
Rob Gronkowski's dreams are exactly what you imagine them to be

Cleveland brought in Ryan Grigson as a personnel executive

The former Bills GM says that he would make sure he gets a franchise quarterback
Sherman has engaged in some pretty cool jersey swaps over the years

Twerking is still outlawed under the NFL's new policy, which is bad news for Brown

Hawkins is just the kind of versatile, shifty receiver that thrives in New England's offen...