Dominique Rodgers-Cromartie: 'I'm definitely not retiring'
Two days after saying he was thinking about retiring, Broncos cornerback Dominique Rodgers-Cromartie says that's not the case.
• 1 min read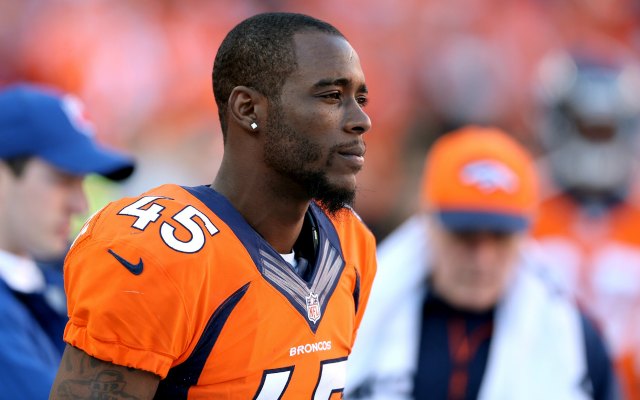 More SB coverage: XLVIII odds | Expert picks | Super Bowl weather | Latest news
JERSEY CITY, N.J -- Dominique Rodgers-Cromartie had something interesting to say Monday when he proclaimed that he was pondering retirement after just six seasons in the league.
"After the first contract, I got a one-year deal, and it's hard to get another [big-money] deal," Rodgers-Cromartie said Monday. "Just from being around, I've seen a lot of guys get to the point I am right now, and it's hard. You have to start thinking about life after football."
Turns out the Broncos cornerback is just thinking about it, and he's spent the last two days telling people that actually he doesn't plan to retire after all.
"I'm definitely not retiring," Rodgers-Cromartie said Wednesday. "What I'm saying is, when I look at the history of the NFL and I look at these guys that come off a one-year contract, that's it for them. I'm just talking from a personal experience. ... You have to think about inside and outside of football. That's what I'm saying."
Rodgers-Cromartie is good friends with Fabian Washington, who was drafted No. 23 overall by the Raiders in 2005. Washington played through his first contract (a five-year, $7.8 million deal) and never received a second long-term deal. So, when Rodgers-Cromartie talks about how it's hard to find that big-money contract the second time around, the image of Washington is who he's invoking.
"You've got to understand -- I think about Fabian Washington who is from Bradenton (Fla.),  just like I am," Rodgers-Cromartie said. "First round, one contract, got a one-year deal, never came back. I work out with him. He's still fast, still in his prime and I think, 'That could be me.' I think about guys like that."
Rodgers-Cromartie finished out a five-year, $15.1 million rookie deal with the Eagles last year, and in free agency, he signed with the Broncos for one year and $5 million. What comes next, Rodgers-Cromartie doesn't know for sure, though he seems amicable about returning to Denver.
"I can't speak on [a new contract]. I am prepared for whatever," Rodgers-Cromartie said. "That's what I mean about this being the last go-round."
Follow Josh Katzowitz on Google+
Show Comments
Hide Comments
Trubisky, the No. 2 overall pick of the Bears, was not exactly shown the love in his new c...

The singer and the Seahawks quarterback welcomed a baby girl into the world on Friday

Follow all of the latest news and rumors as the 2017 NFL Draft wraps up in Philly
Jones blasted a report from Friday night that said the Cowboys were shopping their starting...

The Giants did not expect the Cal QB to be available in the third round

Plus Nick Saban sends a ton of talent to the NFL, the Browns find a QB and more from Rounds...