Donte Whitner: Browns shouldn't cut Josh Gordon, they need to help him
Browns safety Donte Whitner says his team needs to help troubled receiver Josh Gordon.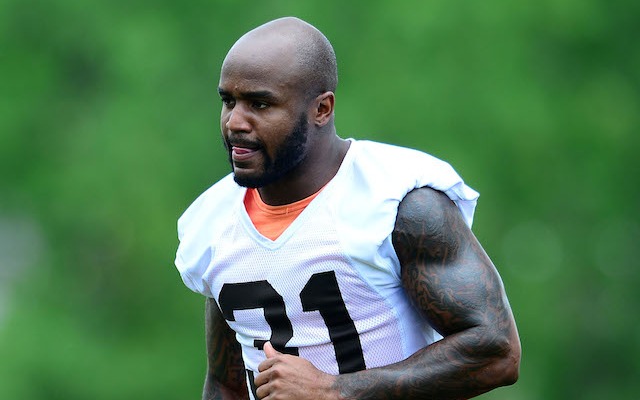 Hall of Fame wide receiver Cris Carter raised some eyebrows this week when he said that the Cleveland Browns should cut Josh Gordon. 
Carter's comments came two days after Gordon was charged with DWI in North Carolina and they also came with the knowledge that Gordon is facing a possible one-year substance abuse suspension from the NFL.  
However, what Carter said came from the outside looking in. One guy who's on the inside is Browns safety Donte Whitner and Whitner doesn't think his team should dump Gordon. 
"He's a 23-year-old kid; he made some mistakes. A lot of people's 20-year-old sons make mistakes," Whitner told SiriusXM NFL Radio on Friday.  "We have to help him, and that's the bottom line. We have to help him collectively. It's not going be one person that helps him, it's not going to be two people that help him. It's gonna come from the front office, the coaching staff, the players and his whole family. We have to help him -- not only for football purposes, but for life purposes to get his life in order."
Without mentioning Carter by name, the Browns safety basically called Carter's comments 'dumb.'
"The thing is, we have to rally around him," Whitner said. "I know all the dumb things people say -- 'he should be cut, he should be this' -- he shouldn't."
Whitner added that he's communicated with Gordon and that the Browns receiver is "very remorseful."
The Browns should know by late July what kind of suspension Gordon will be facing in 2014 and if it's a one-year ban, then Gordon will need all the help the team can give him. People close to Gordon are concerned that a one-year suspension could mean the end of his career. 
Show Comments
Hide Comments
Dak Prescott impresses -- again -- and Ryan Tannehill appears to be improved, at least in...

The Cowboys should be pleased with the early returns from their rookie running back

Romo got sacked by the Seahawks, but eventually left the field on his own
The former Texans running back looks completely healthy

Cardinals coach isn't a fan of experiment with video, says it helps the offense more than the...

Sashi Brown might be upset to have just four wins but owner Jimmy Haslam seemed OK with it...