Draft QB scenarios: How many in Round 1? Manziel at No. 3 overall?
How will Round 1 finally unfold May 8? With so many needing QBs, best guess is three go. Johnny Manziel to the Jags at No. 3 would be a smart start.
• 8 min read
More NFL offseason: Mock Drafts | Prospect Rankings | Pro Days | Top free agents
As we pass what seems to be an eternity between the scouting combine and the start of the actual NFL Draft -- now agonizingly pushed back well into May -- there is maddeningly more time for theories to take hold. One making the rounds lately has the three top echelon quarterbacks in the draft -- Johnny Manziel, Teddy Bridgewater and Blake Bortles -- all falling out of the upper region of the round, and at least one, namely Bridgewater, landing out of the first round entirely.
A year after Geno Smith tumbled all the way out of Thursday and into Friday before ultimately landing with the Jets -- something I didn't believe would happen -- and with EJ Manuel being the only passer taken on the first night of the draft, I'll refrain from making any uber-bold statements. The draft is a crapshoot; it takes on a life of its own once names start flying off the board and once trades start being completed at a record pace, and there is just no way to predict. So a year after my steadfast belief Smith would land in the first round blew up in my face, I'm not going to guarantee anything this time around.
However, I do expect all three of these kids to be nabbed in the first round, and I anticipate quite a run on quarterbacks to dominate the second day of the draft as well, with plenty of teams earmarking the second and third rounds to wade in at this position. I don't anticipate a quarterback going in the top two picks, however, even if trades are consummated there, and, back at the combine, I would have projected all three of these former college stars going within the first 10 selections. I don't see that happening now, either.
But, with 32 picks to be made come May 8 -- yeah, trying not to focus too much on that date, because we are still over two weeks away -- I have a hard time coming up with a scenario where these three quarterbacks don't get drafted on opening night. And, if this theory turns out to be correct and there is a major plummet ahead, well, in the end I suspect the rich will just get richer and some of the strong, forward-thinking, contending franchises picking at the back end of the first round might just see too much value in these young arms to pass them up.
Regardless, even with this draft being so deep at so many key positions -- like wide receiver and tackle -- you don't win in this league without a very competent quarterback. With the free-agent market for passers being beyond barren, this draft will be the last chance for the many needy clubs to find someone to inspire hope that better days under center are ahead. This is it. And that need, coupled with sufficient supply, and, considering how cheap these draft picks are now, leads me to believe we see at least three go in the first round.
The idea that in a two-year span, perhaps only two or three total quarterbacks would be taken in the first-round of the draft, with the economics being what they are, and at a time where the ball is being chucked around the field league-wide at a staggering rate, just doesn't compute with me. Maybe it ends up being the case, but I don't see it.
Economics and trade-downs big factors
I do agree with the idea that teams like quarterback-needy clubs like Houston (first overall), and Cleveland (fourth overall), if they are unable to trade down (and I expect both to explore that option vigorously) would see too many standouts at other positions to take a quarterback that high in the draft. If the Texans don't take a defensive player first overall, and are able to trade down, I'd expect them to target Bortles at a lower spot. And if they do take a defender first overall and draft a quarterback atop the second round, sources said Jimmy Garoppolo and Derek Carr (if available) would be the top two targets. St. Louis, at second overall, would be all about trading out of the second pick, but I wouldn't expect anyone else to move up that high to get a quarterback).
The first spot I see a quarterback coming off the board, realistically, is Jacksonville at third overall. They did the "safe" thing last year, the first under young and talented GM Dave Caldwell, and took a left tackle for the future. A difference-maker on defense like Jadeveon Clowney or Khalil Mack would certainly be very enticing, and you could make a case for receiver Sammy Watkins as well, but I expect the Jags to think very long and hard about Manziel or Bortles -- a product of nearby Central Florida -- with this pick. If I'm picking here, I take Johnny Football, and, after more than just dabbling with the idea of acquiring Tim Tebow a few years back, I wouldn't blame owner Shahid Khan one bit if he was engaged with the concept of having JFF bring his brand to a franchise long-starved for real national appeal.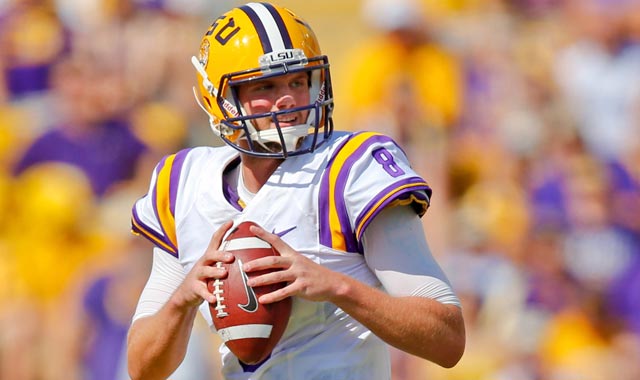 The Raiders, picking fifth, desperately need to come away with a quarterback of the future in this draft as well, but, I'm not so sure they do it here. To me, Manziel was born to be a Raider; he fits the iconoclastic, rebel motif that Al Davis constructed over time perfectly. But I don't see Reggie McKenzie making that kind of gamble here, not with that group of Day Two passers having some allure as well (the Derek Carr, Zach Mettenberger, A.J. McCarron, Aaron Murray, Jimmy Garoppolo, Tom Savage clumping). So I could see the Raiders joining the pass brigade, and the quarterbacks falling for a spell here, if none have been taken.
If Minnesota opts to pass on the passers as well, and no one has come off the board by this spot, then consider me among those who presume only two might go in the round entirely. Bortles would have many of the attributes new coordinator Norv Turner would covet -- but, then again, so would Mettenberger, who was coached at LSU by Turner disciple Cam Cameron. No doubt, the Vikings passing on all three top quarterbacks, if all three were available, would send a signal that patience could well be a virtue when deciding when to select a signal caller. But even in this quasi-desperate scenario, I still see potential landing spots for the tumbling passers.
(One caveat to the freefall idea would be the Rams, who, could trade down from two and acquire even more picks, and who just might strongly mull taking a quarterback with the 13th pick as well, with Sam Bradford still unproven entering his fifth year and still due $27-million -- non guaranteed -- over the next two years. Another caveat is the Titans, who have been burned taking a quarterback high fairly recently with Jake Locker, could easily afford, financially, to take another one at 11th overall here, and now are coached by quarterback mentor Ken Whisenhunt.)
Might Arizona jump into QB fray in Round 1?
Would the Cardinals, who are building for the long haul but realize Carson Palmer is a year-to-year proposition at quarterback at this stage of his career, see too much value to pass on one of the big three with the 20th overall pick? Could the Packers, at 21, who are notorious for prizing best available player and value above all else, and who have been living dangerously in the backup quarterback department for years, mimic their actions of years past when they nabbed a plummeting Aaron Rodgers with Brett Favre still under center, and take a dropping quarterback now?
I'm going to assume at least one quarterback is gone by the time the Browns pick again at 26 -- I'm sticking with Johnny Football coming off the board somewhere in the first eight picks -- and given all they have been through at that position, and the abundance of picks they have left to address other needs, I have them taking Bridgewater with their second first-round pick. At a time when you can't believe much of what you hear, I have heard enough about their opinion of him to see this as a value they can't pass. I know Manziel would be a better fit for coordinator Kyle Shanahan's offense, but, again, I'm assuming he's long gone and I don't think rookie GM Ray Farmer would be into going big on Johnny Football, anyway.
So, could it be Bortles who ends up being the quarterback who falls out of the first round (or comes close to doing so)?
The Patriots, picking 29th overall, have done ample homework on quarterbacks in this draft and Tom Brady isn't getting any younger and Ryan Mallett might not be the guy to eventually take over for him. Denver, picking 31st, knows everything will change once Peyton Manning waves goodbye (which could come after this season). Are they convinced Brock Osweiler would be the right man to succeed him?
Teams picking on the 20s, in particular, can't bank on any of their players with second-round quarterback grades actually being there when they pick again, and rather than mull trade up options, maybe it makes more sense to take a chance on a quarterback at the end of the first round, anyway. Even the Saints, at 27, who knows, could see a prospect worth taking and cultivating as the quarterback-in-waiting for Drew Brees. Sean Peyton knows plenty about how to develop them, and his eye for evaluating talent at this position is as good as it gets.
What I do know is that the draft will have some curveballs and take some twists and turns, and surprises are ahead. In the end, I think there is a very good chance three quarterbacks are still among the 32 selections called out by Roger Goodell, but just don't ask me to tell you exactly when and to which teams. At least not yet. This used to be the week when these players were coming off the board, but now it's just another week to try to sift through the smoke screens.
Show Comments
Hide Comments
The Giants did not expect the Cal QB to be available in the third round

Plus Nick Saban sends a ton of talent to the NFL, the Browns find a QB and more from Rounds...

The Vikings' Latavius Murray and Bengals' Jeremy Hill also get put on notice with Cook, Mixon...
Here's everything you need to know about the 2017 NFL Draft

Here's a recap of Round 2 and Round 3 in the 2017 NFL Draft

Here are the 25 best prospects still available after three rounds of the 2017 draft have w...