Eagles coach Chip Kelly is adding QBs who torched him at Oregon
What does Chip Kelly want in a quarterback? Apparently someone who torched Oregon in college.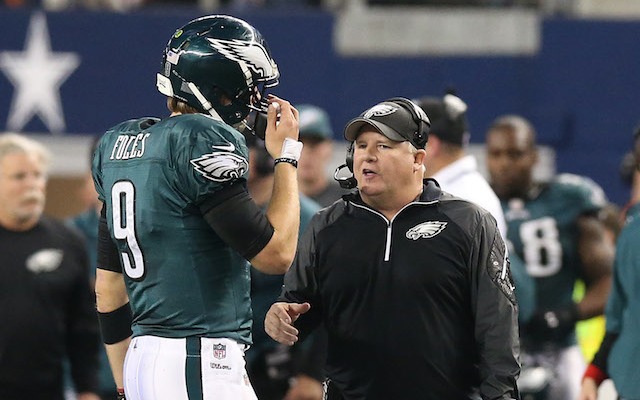 If you're a former Pac-12 quarterback who torched Chip Kelly in college, you might want to give the Eagles a call because the team might have a job for you.
The addition of Mark Sanchez on Friday means the Eagles top three quarterbacks all have two things in common: They all played in the Pac-12 and they all had big games against Kelly's Oregon Ducks.
You could call it call it a coincidence that Kelly added three former Pac-12 quarterbacks, but Kelly doesn't seem like a guy who believes in coincidences. Kelly spent six seasons at Oregon and in those six years, he went up against Sanchez, Barkley and Foles a total of nine times. 
In those nine games, the three quarterbacks threw for an average of 336.3 yards, three touchdowns and 1.1 interceptions. Those totals include Barkley's 484-yard, five touchdown performance in a 62-51 USC loss to Oregon in 2012. 
As Kelly proved in his first year with the Eagles, he doesn't need a Tom Brady or Peyton Manning to make his system work. What Kelly needs and what makes his system thrive is a quarterback who makes smart decisions, throws quickly and doesn't take sacks. Kelly hates sacks. 
Here's what Kelly wrote about sacks while he was at Oregon.
In our attitude, every sack is the quarterback's fault. It is not a sack if the quarterback throws the ball away. Nobody ever lost a game 0n an incomplete pass. Throw the ball away, and give us another opportunity to make a first down. lf you throw it away, it is second-and-10 for the first down. If you take the sack, it is second-and-16 for the down. lf you can stay away from negative yardage plays, you will be successful.
Here's a look at what each quarterback did against Oregon while they were in college. Kelly was the Ducks' offensive coordinator in 2007-08 before being promoted to head coach in 2009. No, Kelly didn't have much say over the Duck defense, but in each of these games, he did get a first-hand look at each quarterback and apparently that first impression stuck with him. 
USC QB Mark Sanchez
2007: 26 of 41, 277 yards, two touchdowns, two interceptions in 24-17 loss.
2008: 19 of 28, 332 yards, three touchdowns, zero interceptions in 44-10 win.
USC QB Matt Barkley
2009: 21 of 38, 187 yards, two touchdowns, one interception in 47-20 loss.
2010: 26 of 49, 264 yards, one touchdown two interceptions in 53-32 loss.
2011: 26 of 34, 323 yards, four touchdowns, one interception in 38-35 win.
2012: 35 of 54, 484 yards, five touchdowns, two interceptions in 62-51 loss.
Arizona QB Nick Foles
2009: 30 of 46, 314 yards, four touchdowns, one interception in 44-41 double overtime loss.
2010: 29 of 54, 448 yards, three touchdowns, one interception in 48-29 loss to No. 1 Oregon.
2011: 34 of 57, 398 yards, three touchdowns, zero interceptions in 56-31 loss.
Kelly wouldn't have added Barkley and Sanchez if he didn't think they could run his system and he wouldn't have kept Foles if he didn't see potential last year -- keep in mind, he could have traded him at almost any point last offseason. 
Another Pac-12 quarterback who torched Kelly a few times? Andrew Luck. I'm thinking he'd do OK in Kelly's system.  
Show Comments
Hide Comments
Jerry Jones and everyone else in the war room had a good laugh at the expense of Eagles' f...

It was her 'first official car,' Watson said

Spencer Hall grades every seventh-round pick of the 2017 NFL Draft
Kaaya will battle for the right to back up Matthew Stafford

Jets trade down five times after GM Mike Maccagnan made it known they were looking for extra...

Spencer Hall grades every sixth-round pick of the 2017 NFL Draft