Eagles coach Chip Kelly: 'Maybe we should have bled the clock'
Philadelphia Eagles coach Chip Kelly admitted on Monday that the Eagles probably could have done things differently in the time management department at the end of Sunday's loss to San Diego.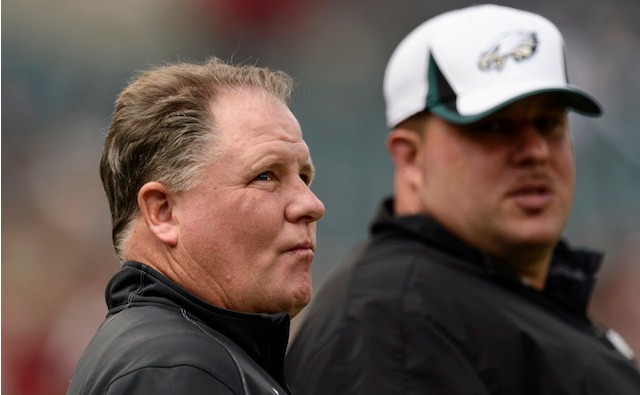 Chip Kelly's late game playcalling may have cost the Eagles a win on Sunday in Philadelphia's 33-30 home loss to San Diego. Although Kelly didn't come out and admit that on Monday, he did acknowledge that he could have done things differently. 
Trailing 30-27 late in the fourth quarter, the Eagles made it down to San Diego's 14-yard line when Michael Vick hit DeSean Jackson for a 25-yard gain. At that point, the Eagles could have let the clock run down to the two-minute warning and then had a first-and-10 afterward.
Instead, the Eagles called a pass play with 2:09 left that ended with an incompletion and a brief Vick injury. On second down with 2:03 left -- still no two-minute warning -- the Eagles called another pass. When the two-minute warning finally hit, it was third-and-10.
Philadelphia ended up kicking a game-tying 32-yard field goal with 1:51 left, which meant the Chargers would get the ball back. The same Chargers offense that had only punted once through the game's first 58 minutes and nine seconds. 
Kelly admitted on Monday that his team probably should have bled the clock. 
"When you look at it in hindsight, maybe we should have bled the clock and not giving them enough time to come down and do it. You learn from those situations," Kelly told WIP in Philadelphia, via Philly.com. "But we were trying to score seven, not three. We felt like we had three, and just thought we had the opportunity to put one in there, and we didn't get it. We didn't capitalize."
Kelly plays smart football, but sometimes you need to play logical football. "I was trying to score; that's all on me, that's my call," Kelly said. "I didn't want it to leave it in the hands of, it's a tie ballgame. If you score, you're up four. You got to drive a length of the field to try to score a touchdown." 
That touchdown didn't happen and Philadelphia lost. The Eagles will only have three days to rebound from the tough loss as they host Kansas on Thursday. Of course, the big winners here are the Chargers because they're now bound to win the Super Bowl.  
Show Comments
Hide Comments
No teams did bad enough to earn an 'F,' and give credit where it's due to the 49ers(!) and...

The expectation is that Whaley will be replaced with the Panthers' Brandon Beane

Plus Seahawks eschew needs on the line and Rams seek help for Goff as we hand out NFC West...
Plus Saints and Falcons load up on defense as NFC South gets a massive boost in talent

Lions draft for now, Packers run down their checklist and Vikings find a runner in our NFC...

Plus Giants do a lot with a little and Eagles and Redskins face durability concerns in our...