Eagles QB Matt Barkley befuddled by Richie Incognito hazing tweet
Richie Incognito jokingly agreed to fake haze Eagles quarterback Matt Barkley. Needless to say, Barkley was slightly confused.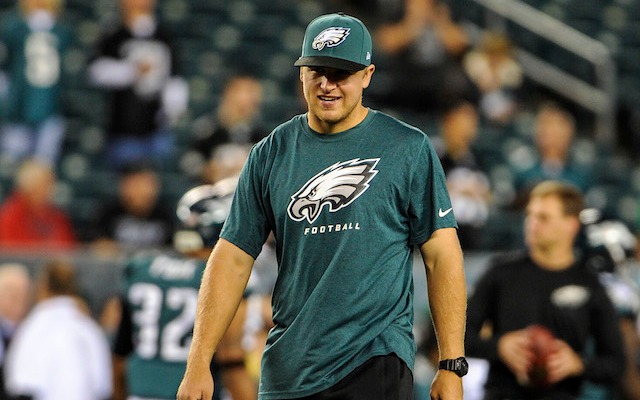 The Miami Dolpins lifted the suspension of Richie Incognito on Tuesday, so you're probably wondering, what does a guy like Incognito do on his first day of freedom? The answer to that question is easy: joke about hazing on Twitter and completely confuse Eagles third-string quarterback Matt Barkley in the process. 
It all started on Wednesday morning when Incognito sent out this innocent tweet. 
Good morning twitter!!!!

— Richie Incognito (@68INCOGNITO) February 5, 2014
That tweet then got a reply from a very fake Nick Foles Twitter account and the reply involved Matt Barkley. 
.@68INCOGNITO morning! Want to help me haze @mattbarkley today while he's still a rookie? Maybe give him the old poop mouth? Text me...

— Nick Foles (@RiseOfFoles) February 5, 2014
Incognito saw the tweet from the fake Nick Foles and replied less than five minutes later. 
@RiseOfFoles @MattBarkley I'm doooooown. Jkjk

— Richie Incognito (@68INCOGNITO) February 5, 2014
Needless to say, all of this left Barkley very confused. 
What the…..?? pic.twitter.com/sS015zyCzq

— Matthew Barkley (@MattBarkley) February 5, 2014
The moral of the story here is that there is no moral. 
RG3 is finally getting an NFL tryout

It's been an unlucky day for Lucky Whitehead

We're about to find out if a rugby player can actually work in the NFL
Unfortunately for Broncos fans, this deal doesn't mean Elway will be playing quarterback

Derek Carr would like to see the refs actually throw some flags in Khalil Mack's favor

The Seahawks quarterback took a run on the Great Wall that was straight out of Rocky II