Eagles QB Michael Vick: Hamstring is worse than I thought it'd be
Michael Vick's hamstring hasn't got much better since he injured it in Week 5. Vick says the hamstring is actually 'worst than I thought it was going to be.'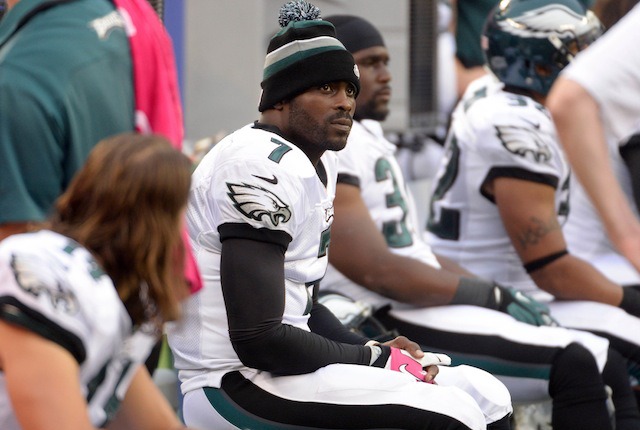 Chip Kelly hasn't announced who his starting quarterback will be when Philadelphia hosts Dallas on Sunday, but Michael Vick might have answered that question for him on Wednesday. 
Vick hasn't played since injuring his hamstring in Week 5 against the Giants and that hamstring injury apparently hasn't gotten any better. "It's worse than what I thought it was going to be," Vick said, via CSNPhilly.com. "It's just slow. It's taking longer than I thought it would."
The injured quarterback then went on to almost flat out say he won't be able to play on Sunday, "I want to get back out there, but I can't," Vick said. "I try to burst and run, I can't do it. Just hoping it's not a long time."
Earlier on Wednesday, Kelly said, "We'll see how he feels" after the first couple of team periods at practice. Clearly, Vick isn't feeling well. 
If Vick's not 100 percent, he won't be starting, at least that's what Eagles offensive coordinator Pat Shurmur said earlier this week, "At this point, we'll go with Nick," Shurmur said. "When Mike's healthy, we'll have that discussion."
Even if Vick's healthy, Foles could remain the starter anyway after what he did to Tampa Bay on Sunday. Making his first start of the season, the second-year quarterback threw for 296 yards and three touchdowns in the Eagles win. Foles also added a rushing touchdown.
If Foles beats the Cowboys and moves Philadelphia into first place in the NFC East, it might be almost impossible for Kelly to bench him. Not that he'd want to. 
Show Comments
Hide Comments
Plus Seahawks eschew needs on the line and Rams seek help for Goff as we hand out NFC West...

Plus Saints and Falcons load up on defense as NFC South gets a massive boost in talent

Lions draft for now, Packers run down their checklist and Vikings find a runner in our NFC...
Plus Giants do a lot with a little and Eagles and Redskins face durability concerns in our...

Plus Broncos and Chargers help their QBs while Raiders gamble big in our AFC West grades

Texans pin hopes to Watson, new Jaguars must focus and Titans help Mariota in our AFC South...