Eight from Wild Card Weekend: In Indy, Hilton always open these days
Over a wild Wild Card Weekend, the Colts rallied and found a star, the Chargers are the new ground and pound and we shout out some stellar calls.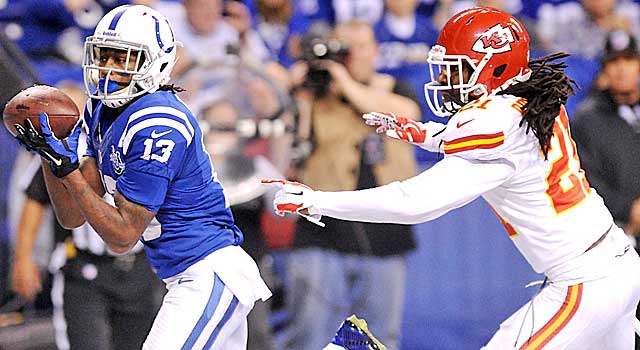 Wild Card Weekend was just that, wild and unpredictable. With the playoffs under way, team quality control coaches will use data gathered from these four games -- from the officiating to trends and tendencies -- when compiling scouting reports for the divisional round.
With that, let's get into Eight from Wild Card Weekend:
1: T.Y. Hilton is the man in Indy
When Reggie Wayne went down with an ACL injury, it looked like the Indianapolis Colts ' season was lost. Not true, because Andrew Luck and Co. got things turned around and the key player turned out to be T.Y. Hilton .
And it was showcased in the playoff win over Kansas City, when Hilton was targeted 18 times to the tune of 13 receptions for 224 yards and two touchdowns. In his great career, spanning 214 games, Wayne never has had a 224-yard receiving day.
But with Wayne sidelined, Hilton is Luck's go-to receiver. Since Wayne was sidelined 10 games ago, Hilton has been targeted 96 times with 68 receptions and seven TDs.
"The Colts don't really have another guy besides Hilton that scares you and they still couldn't stop him," said CBS Sports analyst Shannon Sharpe, a Hall of Fame tight end in his playing days.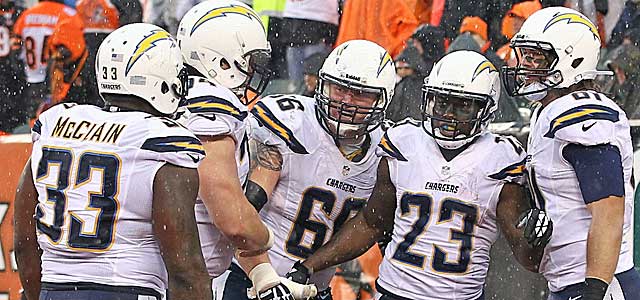 2: Chargers running game humming
San Diego's rushing attack was impressive, going for 196 yards and two scores on 40 attempts at Cincinnati, which boasted the league's No. 5 rushing defense.
Winners of five straight, the San Diego Chargers  have called 197 rushing plays for 851 yards and five touchdowns during the streak. The Denver Broncos will have their hands full against a club averaging 170 yards a game on the ground over those five games.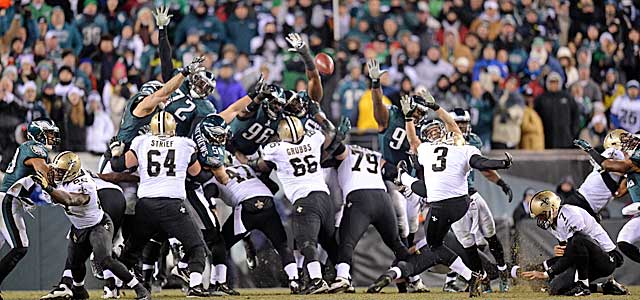 3: Recognizing good decisions
Making the tough decisions is part of a coach's job decription, and here are some that worked out.
A few weeks ago Sean Peyton of the New Orleans Saints cut kicker Garrett Hartley and benched starting left tackle Charles Brown . He replaced them with journeyman kicker Shane Graham and untested rookie tackle Terron Armstead . Some viewed it as a panic move, but it sure looked good vs. the Philadelphia Eagles as Graham kicked four field goals -- including the winner -- and Armstead limited veteran pass rusher Trent Cole who had one sack.
Trailing 24-7, Colts coach Chuck Pagano had a 4th-and-1 situation at midfield, and ran a ride keeper with Andrew Luck gaining 21 yards. The drive resulted in a field goal in a game Indy won 45-44.
Chargers coach Mike McCoy fooled everyone by calling only six pass plays in the first half -- and 16 for the entire game -- vs. Cincinnati. The Chargers ran the ball nine times for 32 yards from shotgun just to keep the Cincinnati Bengals honest.
Niners coach Jim Harbaugh sent an early message in the win at Green Bay. On the San Francisco 49ers ' first 4th-down situation in the first quarter, Harbaugh goes for it on 4th and 6. The result? Colin Kaepernick finds Michael Crabtree for a 31-yard gain.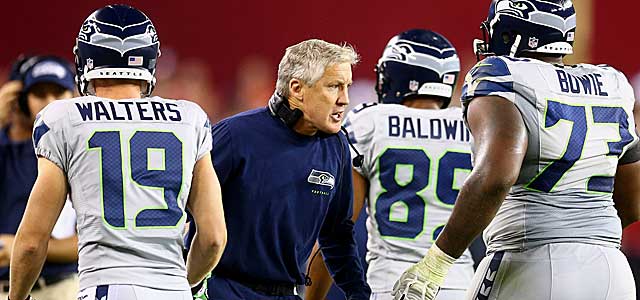 4: Need a coach? Look at these models
The postseason's top four seeds ( Seattle Seahawks , Carolina Panthers , Broncos and New England Patriots ) are led by defensive-minded head coaches.
So with five owners still looking for a head coach, the most successful profile right now is not a college coach or an offensive-minded coordinator.
Yes, Pete Carroll, Bill Belichick, John Fox and Ron Rivera are defensive guys. Also worth noting: Three of them also have been fired, but not before gaining valuable experience, as head coaches elsewhere before finding success in their present jobs.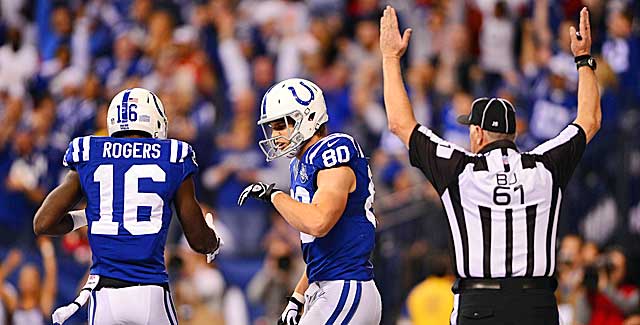 5: Officials letting them play
Each postseason, I track calls by officials. Every postseason team does it too, and provide players information they need and for the assistant coaches to take advantage of what officials aren't calling. Rules enforcement was an issue last season in the postseason and there are similar traits after four games.
Last postseason's trend to "let them play" -- not bogging down games with excessive penalty flags -- continued this past weekend, so coaches as well as players will plan accordingly.
During the regular season, there were an average of 14 penalties called each game. But in the four wild-card games there were only 31 penalties called -- or a little more than half or what we saw during the regular season.
There were only three penalties -- combined -- in the first quarter of the four games, as it appeared officials wanted games to get off to a smooth start. None of those calls were holding calls by offensive linemen. Rest assured, offensive line coaches are aware of that.
There were 295 pass plays called in the four games, resulting in one pass interference call and only four defensive holding calls. Be certain that secondary coaches will feel like their players can be more aggressive if this trend continues.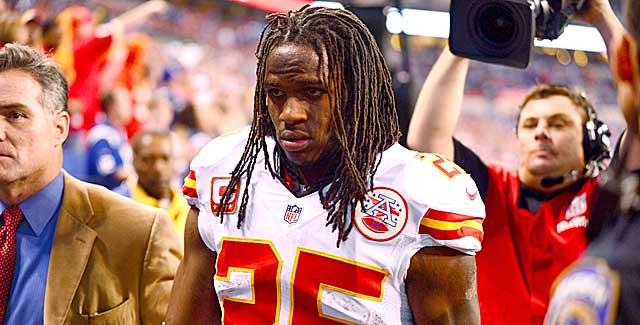 6: Concussion issues
Concussions were a big part of the wild-card games. At least four Kansas City Chiefs players were sent off with concussion symptoms never to return. In all, eight players had such issues in the four games.
Green Bay Packers tackle David Bakhtiari reportedly returned to the game vs. San Francisco for a special teams play without permission, which points to some real issues. Players are so fearful of identifying concussion symptoms in big games because they feel their team needs them.
Keenan Lewis of the Saints appeared to be claiming he was OK and wanted to return vs. the Eagles after being diagnosed with concussion symptoms. Of course the doctors wouldn't let him return.
After seeing the no-nonsense approach to concussion, there is a need for expanded rosters to have personnel ready to fill in as these concussions occur -- and protecting players from trying to return when they should not.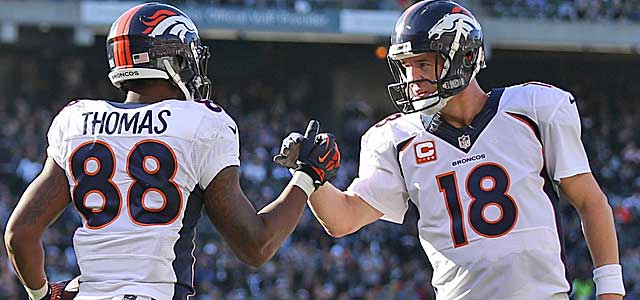 7: To no-huddle, nor not to no-huddle
The remaining playoff teams are split along conference lines on using the no-huddle.
The Colts were well into using it before rallying from 28 points down to beat the Chiefs. So there was no transition to a 2-minute offense once they got in trouble. They used it 34 times, scoring two TDs, in the comeback. In their loss, the Eagles took 44 no-huddle snaps and did most of their scoring out of it.
The AFC's Broncos, Chargers, Patriots and Colts have combine for more than 1,400 snaps and 75 touchdowns -- with Denver using it most.
Meanwhile, the NFC's Seahawks, 49ers, Panthers and Saints have taken a combined 140 no-huddle snaps, resulting in two TDs.
8: Lesson in holding a lead
If your favorite team couldn't hold a lead, or -- even worse -- was in the habit of squandering a big lead in a playoff game, head to former Pittsburgh Steelers coach Bill Cowher -- who was 106-1-1 in games with at least an 11-point halftime lead -- for some advice.
I did just that, asking Cowher about his philosophy in compling that record. The response: "Run the ball and when you get tired of running the ball run it some more," Cowher said.
Show Comments
Hide Comments
'I want to score a lot of touchdowns. I want to see a lot of celebrations,' Harbaugh said

The 2015 first-round pick has 33 career receptions

Sherman reportedly thought about playing for the Cowboys or Patriots
One of the league's best wideouts had just four catches for 28 yards against Green Bay

The Browns selected Kizer in the second round of the 2017 NFL Draft

Talk about a great Christmas present