EJ Manuel 'day-to-day' after preseason; has 'very minor' procedure
According to the Bills and head coach Doug Marrone, EJ Manuel will be "day-to-day" once the preseason ends after having a "minor procedure" done on his knee.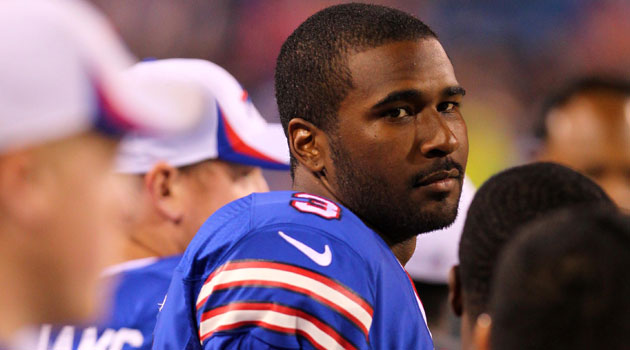 As we noted Saturday, Bills rookie quarterback EJ Manuel won't play the remainder of the preseason because of a certainly surprising knee surgery he's undergoing as a result of swelling following Friday's win over the Vikings.
On Sunday morning, coach Doug Marrone indicated that he expected Manuel could be ready for the regular season -- we'll see about that -- and will be "day-to-day" after the preseason.
"I really view this procedure as minor," Marrone said. "He won't be here for the preseason, but my expectation is that he will be day to day after that."
Per the Bills, Manuel's surgery happened on Sunday morning in Buffalo; clearly they wanted to get him under the knife as quickly as possible in order to minimize the turnaround time for the young quarterback.
But everything about the injury is still pretty mysterious. Marrone said the team doesn't really know when Manuel injured himself and that they just saw "some swelling" on Saturday morning.
Marrone: after the game EJ Manuel was evaluated. Some swelling the morning after. Not much seen on film for how injury occurred.

— Buffalo Bills (@buffalobills) August 18, 2013
Marrone also didn't really have a timeline for when Manuel will come back, noting he'd "be able to judge better" in a fortnight or so.
"We should be able to judge better in two weeks when EJ comes back," Marrone said.
The mysterious nature of the injury is even odder considering Kevin Kolb, the man who will ostensibly replace Manuel, actually DID see what.
"When he got up from that one run, I could tell something was wrong," Kolb said. "You could tell something was bothering him."
So the backup knows about the injury but the coach can't really tell and, still, no one's told us exactly what kind of knee procedure Manuel is having, other than "minor?" It's weird, right?
Nevertheless we'll have a new competition at quarterback to keep our eye on for the immediate future. Kolb, the de facto starter now, will go up against rookie Jeff Tuel, who Marrone praised on Sunday at the end of Bills training camp.
"If you go back and look, we really like this kid from Washington State," Marrone said.
Maybe we'll end up seeing a rookie quarterback make an impact after all.
The Eye on Football podcast brings you the best NFL analysis money doesn't have to buy. Subscribe on iTunes here!
Show Comments
Hide Comments
Matt Elam, the Ravens' 2013 first-rounder, was also arrested in February

Other candidates include Jameis Winston, Blake Bortles and, of course, the Patriots

Jones provided Cowboys tickets and travel accommodations to officers and their families
Romo played DJ at a charity event and got Ezekiel Elliott on stage for 'O.P.P.'

Kaepernick has spent much of his offseason helping others and now supporters will return the...

Beast Mode led a bicycle parade through his hometown and apparently didn't even have to pe...