Eli Manning: Peyton is the better QB, I'm the better lover
Eli Manning conceded this week that Peyton's the better quarterback of the two. However, it wasn't a total loss for Eli because apparently he cooks better and makes a better lover.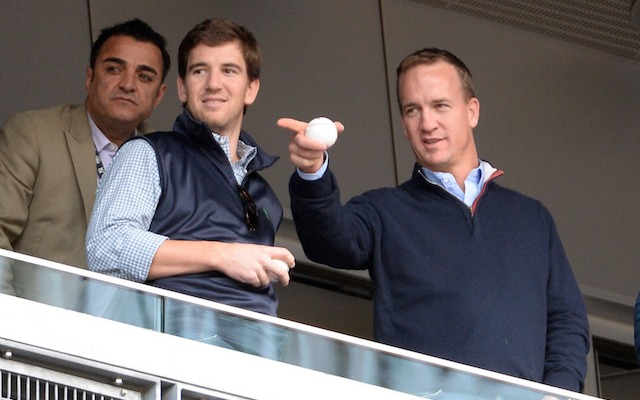 More NFL offseason: League minicamp dates | Latest news, notes
Thanks to Eli Manning, we now officially know which Manning brother is the better quarterback. We also know who the better cook is, the better driver and the better lover.
During an interview with Fox Sports Radio this week, Eli was given a quiz and for each question, the answer either had to be him or Peyton. This quiz would probably also work well with the Harbaugh brothers. 
Here's the entirety of Eli's quiz with host Jay Mohr:
Jay Mohr: I'm going to give you a pop quiz, and your answer is either you or Peyton... Who is your mom's favorite?
Eli: Me.
Mohr: Who dresses better?
Eli: Me.
Mohr: Who's your dad's favorite?
Eli: Peyton.
Mohr: Who's cleaner?
Eli: Me.
Mohr: Who gives better advice?
Eli: Peyton.
Mohr: Who reads more?
Eli: Peyton.
Mohr: Who's a better lover?
Eli: Me.
Mohr: Who cooks better?
Eli: Me.
Mohr: Who drives better?
Eli: Definitely me.
Mohr: Who's a better quarterback?
Eli: Peyton's got me.
Unfortunately, it looks like we'll never know who the better football cop is. 
Show Comments
Hide Comments
Our Latest Stories
Packers cornerback Makinton Darleant is also charged in incident early Sunday morning

Panthers owner Jerry Richardson won't be in attendance as he continues to battle health is...

The Raiders vote is expected as early as Monday, and 'pace of play' is also high up on the...
Translation: The Browns want to upgrade at the quarterback position

Oher missed the final 13 games of the 2016 season

The new Packers tight end says he was inspired by his brother, Seahawks defensive end Michael...