Evan Mathis rips Chip Kelly, says Broncos would've 'eaten Chip alive'
The former Eagle, who won a Super Bowl with the Broncos this year, ripped his former coach in an email.
• 2 min read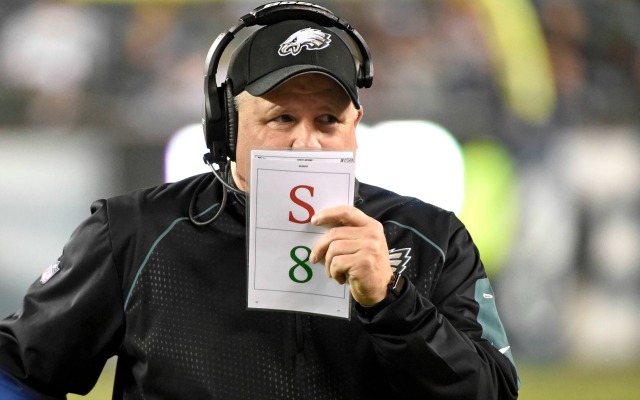 Chip Kelly has already moved on from the mess that ended his tenure in Philadelphia last December. He made that much clear in his opening press conference as the new 49ers coach. But his past isn't exactly going away.
On Monday, former Eagles guard Evan Mathis ripped Kelly in an email sent to Mike Klis of 9News in Colorado. Mathis, who joined the Broncos last season and won a Super Bowl with the team, corresponded with Klis on a wide range of topics, but his quote about Kelly is what will stick.
According to Mathis, there's no way that Kelly would've been able to handle the championship-caliber Broncos.
"There were many things that Chip had done that showed me he wasn't building a championship team," Mathis wrote in his email to Klis. "Two of the main issues that concerned me were: 1. A never-evolving, vanilla offense that forced our own defense to play higher than normal play counts. 2. His impatience with certain personality types even when they were blue-chip talents. The Broncos team I was on would have eaten Chip alive. I don't think he could have handled the plethora of large personalities."
Mathis, a member of the Eagles from 2011 until 2014, played under Kelly's reign for two seasons. The Eagles won 20 games in those two years. But the team parted ways with the two-time Pro Bowler, who wanted a new contract, before the 2015 season. 
Before the Eagles even cut Mathis, he made it clear to Kelly that he wanted to be set free. According to his emails with Klis, Mathis even sent this YouTube video to Kelly in March. Seriously, he sent him this:
Per Mathis, the Falcons, Dolphins, Vikings, Patriots, Giants, Jets, 49ers, Seahawks, Titans and Redskins were interested after the Eagles dumped him. Eventually, the Broncos got in the mix -- oddly after Mathis says he had a dream that John Elway called him up. The rest is history: Mathis landed with the Broncos and won a Super Bowl.
Meanwhile, Kelly took over as the 49ers coach last month. Last week, Mathis spoke to Bill Lekas and Takeo Spikes on SiriusXM NFL Radio and weighed in on the 49ers' decision to hire Kelly. He was at least a little more complimentary during that exchange.
"I think Chip Kelly, he's a good coach," Mathis said, per CSN Bay Area. "And I think he'll have better success if he's not trying to wear too many hats."
Mathis' deal with the Broncos concluded at the end of this past season, so he'll enter free agency next month. He could even retire given he's 34. If he does hang around for another season, San Francisco probably isn't a likely destination.
Show Comments
Hide Comments
Receivers surprise in the top 10, Alabama goes MIA in the top 15 and more 2017 NFL Draft t...

Florida State RB Dalvin Cook will kick off Day 2 of the draft

There were a lot of good moves made during the first day of the 2017 NFL Draft
It seems that fans in Chicago feel like the Bears may have gotten ripped off

Round 1 is in the books -- and here's a recap of all the rumors, picks, trades and analysi...

Here's everything you need to know about the 2017 NFL Draft