Even if Raiders overpay, trading for Darrelle Revis makes some sense
If Darrelle Revis hits the open market, the Raiders' chance of landing him are reduced. So why not make a play for a trade now?
• 3 min read
More NFL offseason: Mock Drafts | Prospect Rankings | Pro Days | Top free agents
The Oakland Raiders may be the only team that truly pursues Darrelle Revis, and, frankly, it makes more sense for them to do so than pretty much anyone in the NFL. For several reasons.
First of all, they are way short on talent, haven't competed in years, could use a top corner to mentor raw first-round pick DJ Hayden and, well, did I mention they were the Raiders?
As much as they would love to cherry pick some top talent in free agency, let's face it, agents view the place as a black hole and it is very, very difficult to lure elite free agents there (recall, they traded for Richard Seymour and Carson Palmer and gave up quite a bit to get them). No way, even if Revis is cut, he goes to Oakland, unless the Raiders were to grossly overpay, and maybe even come up to the rage of $16 million a year that is currently on Revis' deal.
So if you want him, you have to trade for the contract. Revis has no motivation to alter one penny of it. Nor should he. Go ahead, get released and be free to negotiate with 32 teams, rather than just whoever wants to trade for you.
Now, let's consider the Raiders' finances. They have $48 million committed in payroll cash to 2014 spending, a paltry number. Now keep in mind that, between 2013 and 2017, teams will have to have spent up to 89 percent of a finally rising salary cap on actual payroll. With a cap of $133 million this season and the Raiders at under $50 million, and seemingly unable to retain their own young talent that is worthy of contract extensions, like Lamarr Houston and Jared Veldheer, they may have a difficult time spending that kind of cash.
With Revis at $16 million in cash and cap, the Raiders could pay as they go, and if they need to cut him in a year or two, so be it. It won't take more than a fourth-round pick to land Revis from what I'm hearing from other teams, and Hayden, if he does become the stud corner the Raiders envision, doesn't even have to start making any real money himself until 2017, when his fifth-year option would be exercised.
So, what's the downside?
Well, other than the fact that on the open market, Revis is more like $10 million to $12 million a year, and the fact he wouldn't be thrilled about being there, I don't really see it. Fact is under this new CBA there is a very real spending floor -- if you don't spend it on its players as you see fit, then in 2017 the NFLPA will take the difference from you and re-distribute it as it sees fit -- and the Raiders will have a lot of work to do to get there. It fills a position of need, and the compensation in terms of picks, will be a bargain. The Bucs would rather get something than simply have to cut him tomorrow.
I get it, completely. But for New England, who might have an advantage landing Revis on the open market, $16 million a year would be tricky. For Cleveland, as some have reported, it would set of a chain of events where an extension with corner Joe Haden, already in the works, would get exponentially more expensive and frankly it would be very difficult to juggle two corners at such a high number, especially given the Browns' other needs.
But Oakland? I get Oakland (and you could say the same of a few other talent-starved, cap-overloaded clubs, like Jacksonville). Even it turned out to be a rental for a year or two, for a mid-round pick, I say why the hell not.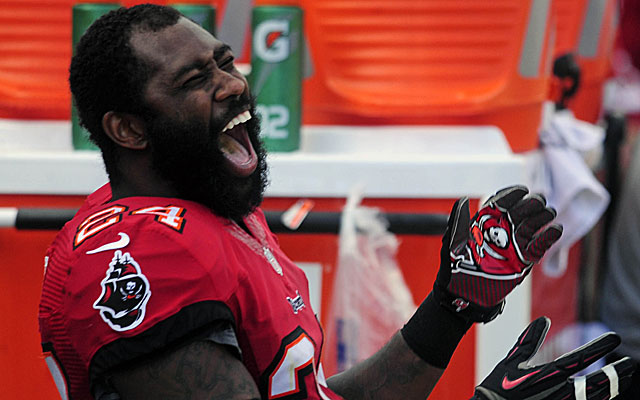 Show Comments
Hide Comments
Both teams blasted the reports of a potential Kirk Cousins deal during Round 1 of the draf...

After an unpredictable Round 1, here are some predictions you can bank on for Rounds 2 and...

Receivers surprise in the top 10, Alabama goes MIA in the top 15 and more 2017 NFL Draft t...
Florida State RB Dalvin Cook will kick off Day 2 of the draft

There were a lot of good moves made during the first day of the 2017 NFL Draft

It seems that fans in Chicago feel like the Bears may have gotten ripped off