Ex-Bears GM Angelo: Jay Cutler not comfortable reading defenses
What was wrong with Jay Cutler in 2013? Apparently a lot. Former Bears general manager Jerry Angelo believes that Cutler is inconsistent in the clutch and isn't comfortable reading defenses.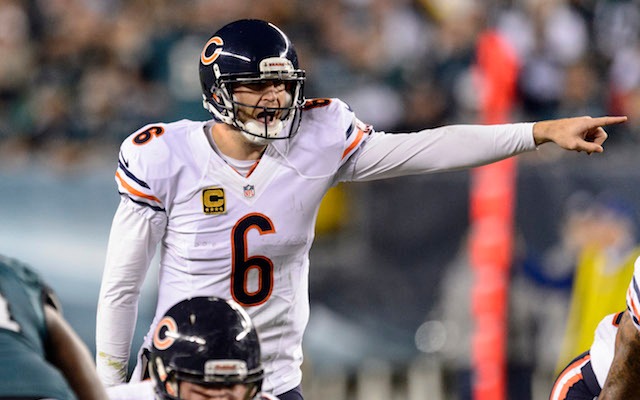 Jerry Angelo used to be the general manager of the Chicago Bears, but he's not anymore because the team fired him after the 2011 season. One of the biggest trades of Angelo's tenure came in 2009 when he sent Kyle Orton, two first-round picks and a third-round pick to Denver for Jay Cutler. 
So now that he's not an employee of the Bears, what does Angelo think of Cutler? Well, he didn't think much of the quarterback's 2013 season. Angelo rated every NFL starter's 2013 season for Thesidelineview.com and he didn't have many positive things to say about Cutler's year. 
Has all the physical tools, but inconsistent in the clutch. Mostly due to a lack of poise. He's not comfortable reading defenses and consequently locks onto a favorite or pre-determined target, that may or may not be the right choice. The less he's asked to see the better he is. A better half field general, than a full field one.
Angelo rated Cutler as the 15th best quarterback in the league in 2013. The former general manager had Cutler ranked behind Tony Romo, Matt Ryan, Alex Smith Nick Foles and Ben Roethlisberger, among others. Angelo's top-rated quarterbacks were Peyton Manning, Tom Brady and Aaron Rodgers. 
Bears backup quarterback Josh McCown scored lower than Cutler, but Angelo didn't have too many negative things to say about him. 
Had the best year of any back-up at his position. He played consistently and without having his coaches compromising the play book to get it done. He was well schooled and efficient moving the team.
Cutler's final grade for 2013 was 7.7, which put him well behind Manning's 8.9, but slightly ahead of Matthew Stafford (7.6), Andy Dalton (7.4) and Carson Palmer (7.3). 
Show Comments
Hide Comments
Brett Hundley was apparently on the block during Day 2 of the draft

The Bills fired their GM Sunday morning, then cleaned house

Get ready to start hearing a lot about Sam Darnold and Josh Rosen
College players who didn't get drafted are now free to sign with any team in the NFL

Benjamin has had weight issues going back to college

As one exec put it, 'We don't know what the hell they were doing'