Ex-Cowboy Joseph Randle arrested for fifth time in 17 months
Randle was arrested on charges of battery, drug possession and criminal damage.
• 1 min read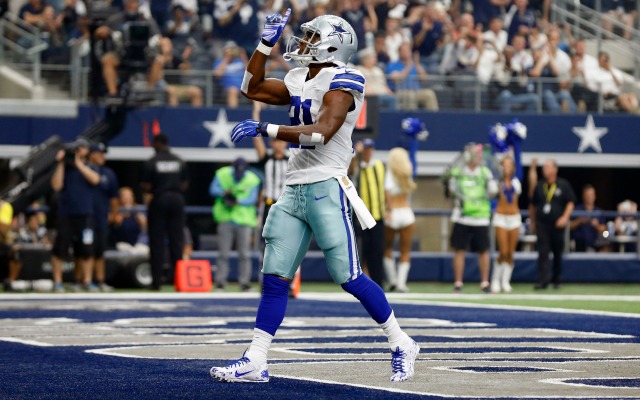 Joseph Randle, who held a job with the Cowboys not too long ago, finds himself in trouble with the law ... again. On Sunday morning, Randle, who the Cowboys cut in November, was arrested in Kansas. He's been charged with battery, drug possession and criminal damage.
The news was first reported by TMZ Sports and was later confirmed by The Dallas Morning News, which cited court records in its article. 
Randle has now been arrested five times in the past 17 months. Sunday's arrest also marks his second arrest this month. From our story on Feb. 1:
Per a report from the Dallas Morning News, Randle showed up at the home of his ex-girlfriend sometime shortly before 3 a.m. hoping to sleep there before driving back to Kansas, where he resides. He was not welcomed into the home and the residents called the police instead. Upon arrival, police ran a warrant check and discovered that Randle was wanted on a speeding charge by police in Coppell, Texas. He was then taken to the Irving Jail and his bail was set at $359.
Randle was also arrested in November after an altercation at a casino. Here's what we wrote at the time:
TMZ reports that Randle was asked to leave the casino because he was inebriated, and on the way out he spit on the floor and assaulted a security officer. Randle was booked on charges of felony criminal threats, misdemeanor assault of a law enforcement officer, interference with a law enforcement officer, battery, disorderly conduct and criminal trespass, according to KWCH.
His other two arrests stemmed from a shoplifting incident and, allegedly, domestic violence. So, if this story sounds familiar, it's because it should. 
Before the 2015 season, Randle infamously declared that ex-Cowboys running back DeMarco Murray left "a lot of meat" on the bone even though he led the league in rushing. Randle rushed for 315 yards in six games this past season. The Cowboys eventually cut him. 
Considering his legal history, Randle doesn't appear to have a future in the NFL. Even if he does return, he'll need to serve a four-game suspension first.
Show Comments
Hide Comments
The Cardinals, however, don't sound enthused about his return

According to NFL Network's Michael Silver, the Browns might want to trade up to draft a franchise...

The projected top-20 pick could fall out of the draft with teams having little time to gather...
Bryant will have his progress reviewed again before the coming season

From Jadeveon Clowney to Odell Beckham, here's the option year prognosis for each 2014 first-round...

Gruden's team took Cadillac Williams instead of Rodgers in the 2005 NFL Draft