Ex-Giants RB David Wilson, out of football, will train for Olympics
David Wilson might be done with NFL, but that doesn't mean he's done with sports. The former Giants running back has his eyes set on making the Olympic team in the triple jump.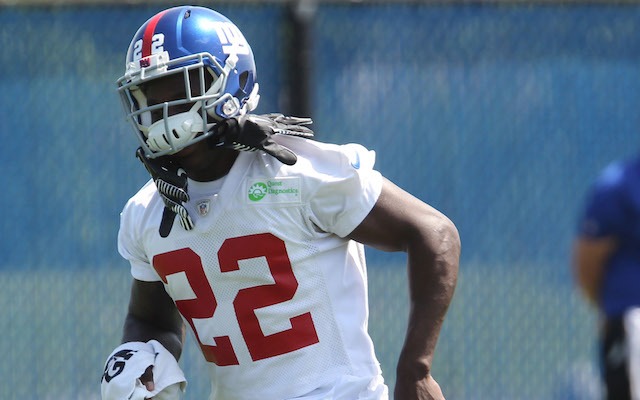 More NFL: Photos |  Videos & GIFs |  Training Camp updates | Manziel watch
David Wilson might have been advised by doctors to never play football again, but that doesn't mean his athletic career is over. As a matter of fact, the former Giants running back knows exactly what he's going to do with his future: He's going to train for the Olympics.
Wilson is hoping to make it to the games in the triple-jump.  
"I'll be going back to school to get my degree and training for the Olympics," Wilson told USA Today's For the Win. "That's something I really want to aspire to do now. I was the national champion twice in high school -- junior and senior year -- and was an All-American in college."
Wilson's plan might sound far-fetched, but it's definitely not impossible. Besides playing football in college, the 23-year-old also ran track at Virginia Tech. The 23-year-old ran for two seasons and earned All-American honors in 2011. 
When Wilson was in college, he finished runner-up in the triple-jump at the ACC Championships in 2011, despite the fact that he wasn't really focusing on track. 
"When I was involved in football, that's all I was thinking about was football," Wilson said. "That's not bad in my situation, because the person I am, I know I can make track. I'm strong enough to know that there's more to life than that. Some people might have taken it more heavy if they took the same approach I had as just focusing on one thing."
Wilson took sixth place in the triple-jump at the NCAA Championships in 2011 with a personal record jump of 16.2m. That 16.2m jump from three years ago would have put Wilson ahead of the 12th place finisher in the finals of the 2012 Summer Olympics in London. 
If Wilson starts training full-time, he could find himself heading to Rio De Janeiro in 2016 as a member of the U.S. Olympic team. 
Show Comments
Hide Comments
Bryant will have his progress reviewed again before the coming season

From Jadeveon Clowney to Odell Beckham, here's the option year prognosis for each 2014 first-round...

Gruden's team took Cadillac Williams instead of Rodgers in the 2005 NFL Draft
Agent claims Smokin' Jay Cutler's 'skill set is as good as any quarterback' in the NFL

A 23-year old woman alleges that Conley raped her in a Cleveland hotel room, and he strongly...

The Bengals are setting a sky-high asking price for their backup quarterback