Ex-Redskins TE Fred Davis wanted on simple assault charge in DC
Former Redskins tight end Fred Davis is a wanted man after getting into an alleged altercation with an ex-girlfriend.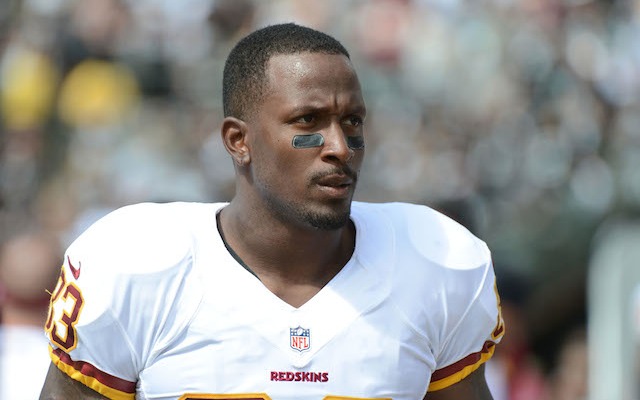 More NFL: Photos |   Videos & GIFs |  Stories | Training Camps | Johnny Manziel watch 
Fred Davis might be currently suspended from the NFL, but apparently, that's not the worst of his problems these days. The former Redskins tight end also has a warrant out for his arrest in Washington DC. 
According to a police report from the June 2 incident, Davis' ex-girlfriend was at a restaurant with another man when Davis showed up. At that point, things got a little weird. 
From the police report (via NBC4):
A few moments after arriving at the location [Davis] approached [his ex-girlfriend] from behind and placed his hands on her shoulder, turned her around approximately 180 degrees so her backside was facing [her male friend] at which time [Davis] stated to [the friend] "Why you with her, she doesn't have an ass."

[Davis' ex-girlfriend] then told [her male friend] that she needed to have a cigarette and went out in front of the [restaurant]... [Davis] walked outside, grabbed a handful of dirt and flowers from the hanging plant box and threw them at [his ex-girlfriend's] torso area. 

While [Davis' ex-girlfriend and her male friend] were standing together, Davis stated "I'm gonna slap you cause you fakin'. Your friend looks like 2 Chainz.
Basically, Davis allegedly threw dirt at her and made fun of her butt. Also, at some point during the melee, the ex-girlfriend tried to grab a plastic ketchup bottle so she could squirt Davis. 
The police report doesn't specifically mention Davis' name, but DC police did confirm to the Washington Post that Davis is the male suspect in the police report and is wanted on one count of simple assault. 
Davis was suspended indefinitely by the NFL in February and is currently a free agent. 
Floyd has claimed that he failed the test due to drinking too much kombucha

Fairley will miss the season due to a heart condition, and his career is in jeopardy

The Chiefs went 43-21 under Dorsey's guidance
He definitely doesn't skip leg day

Newton still isn't 100 percent, but he's on track to be ready in time for the season

James Harrison is entering his NFL season and remains one of the NFL's hardest working pla...