Falcons DT Peria Jerry, 2009 first-round pick, retires
Falcons defensive tackle Peria Jerry, the 24th overall pick in the 2009 NFL Draft, has decided to call it quits.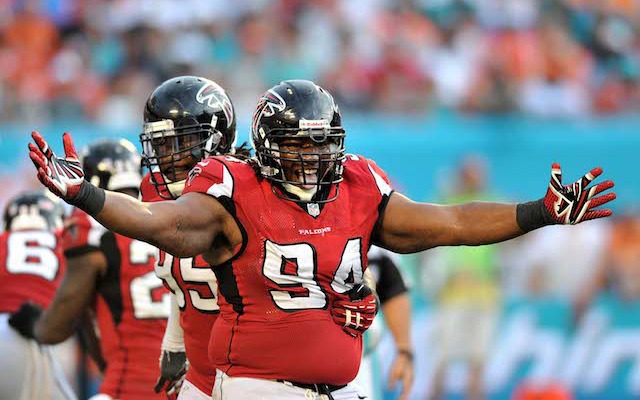 The 2009 NFL Draft class took another hit Thursday when Falcons defensive tackle Peria Jerry announced his retirement. Jerry was the 24th overall pick in the draft and spent five seasons with the Falcons before making the decision to hang up his cleats just over a week into training camp. 
The defensive tackle didn't specify why he was retiring, but that could be a subject that comes up in August when Atlanta's featured on Hard Knocks. 
Jerry started a total of 29 games for the Falcons, including 14 games in 2013,  when he recorded a career-high 3.5 sacks. The 29-year-old got off to a rough start in Atlanta in 2009 when he suffered a knee injury in Week 2. After undergoing surgery, Jerry missed the final 14 games of the season. 
The Falcons defensive tackle will finish his career with 5.5 sacks and two fumble recoveries. 
Jerry now joins a long line of 2009 first-round picks who haven't lived up to their hype. Second overall pick Jason Smith, fourth pick Aaron Curry, 11th pick Aaron Maybin and 31st pick Beanie Wells are out of football right now.
The 2009 draft also included players like Tyson Jackson (picked third by Kansas City), Larry English (No. 16 to San Diego), Robert Ayers (No. 18 to Denver) and Ziggy Hood (No. 32 to Pittsburgh) -- players who had little to no impact on the team that drafted them. 
Show Comments
Hide Comments
Follow all of the latest news and rumors as the 2017 NFL Draft wraps up in Philly

Spencer Hall grades every fifth-round pick of the 2017 NFL Draft

The Colts have a new secret weapon in their front office
Could this result in the end of Eric Decker's time with the Jets?

After suffering an injury, Butt reportedly earned $10,000 per pick after slipping in the d...

Switzer is also a great punt returner