Falcons RB Jason Snelling arrested, charged with marijuana possession
Falcons running back Jason Snelling was arrested on Friday in Winder, Ga., and charged with possession of marijuana. Snelling may have also eaten some of the marijuana, according to the police report.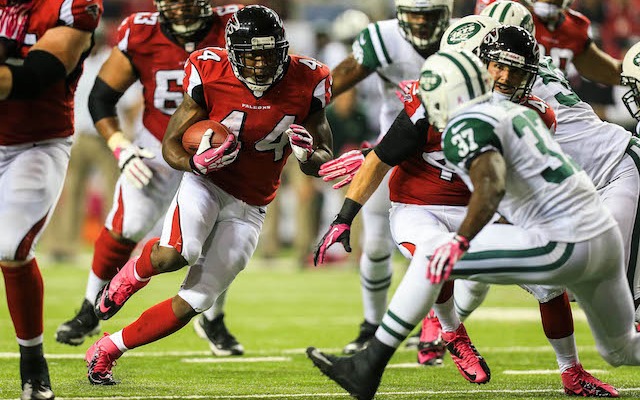 The Falcons have had plenty of on-the-field problems this season, now they might have an off-the-field one. Running back Jason Snelling was arrested and charged with possession of marijuana in Winder, Ga., on Friday, according to the Barrow County News. Winder is a city about 50 miles outside of Atlanta.
The Falcons confirmed Snelling's arrest in a statement released on Friday evening, "We are aware of the situation concerning Jason Snelling and are in the process of gathering additional information," the team said. "Because this is an on-going legal matter, we will have no further comment at this time."
Snelling was pulled over at 3:35 a.m. ET on Friday after an officer noticed a car that was having trouble staying in its lane. The officer noticed a strong odor of marijuana and at that point, Snelling admitted that he had smoked marijuana earlier at a friend's home.  
A second officer on the scene noticed a green leafy substance in Snelling's mouth, which led the officer to believe that Snelling tried to eat the marijuana that was in his car. However, Snelling denied trying to eat any marijuana.   
Besides possession of marijuana, Snelling was also charged with possession of drug related materials, expired or no driver's license, failure to maintain lane, failure to maintain insurance, improper use of dealer license plate and no registration.
Snelling's been with the Falcons since 2007, when Atlanta drafted him in the seventh round. Through nine games this season, Snelling is third on the team in rushing yards (132) and fifth on the team in receiving yards (159). The 2-7 Falcons play in Tampa Bay on Sunday. 
Show Comments
Hide Comments
NFL teams find out their schedule on the same day you do

There probably weren't too many complaints in Kansas City after the schedule was released

Glen Coffee is hoping to make an improbable NFL comeback
Geography can be hard sometimes

Hernandez appears to have left suicide notes for at least three different people

Beast Mode and the Raiders apparently don't see eye to eye on this one thing