Falcons to be featured team on 'Hard Knocks'
The Falcons will be the featured squad on the 2014 version of the HBO show.
• 2 min read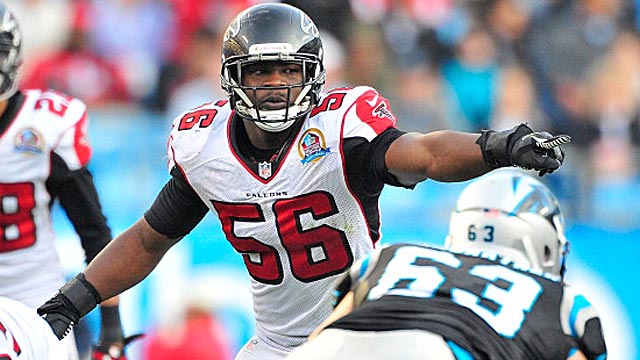 For the first time in the show's eight-year run, the Falcons will be the featured team on Hard Knocks. So says the team.
The Falcons will be featured on @HBO's Hard Knocks during camp this summer. #RiseUp

— Atlanta_Falcons (@Atlanta_Falcons) June 12, 2014
The series will debut Aug. 5 on HBO, and the Falcons will be the subject all the way through the end of training camp.
"We're excited to work with the Atlanta Falcons and HBO Sports on 'Hard Knocks,'" said Howard Katz, COO of NFL Films and NFL senior vice president of broadcasting. "We want to thank Arthur Blank, Thomas Dimitroff, Mike Smith and the entire Falcons' organization for the trust they have in NFL Films by allowing us unprecedented access into their training camp. The Falcons present numerous storylines with a veteran coaching staff, star players and newcomers all coming together to attempt to rise up back to the top of the NFC."
With the way NFL rules are set up now, the Falcons, by virtue of making the playoffs two years ago, could have opted out of appearing. Other reasons that a team could opt out include the hiring of a new head coach or if that squad had appeared on the show in the past 10 years.
Thus, this decision appears to have been voluntary by the Atlanta organization.
Which is unusual in today's NFL climate when it seems like the majority of franchises would rather not invite HBO's cameras into their locker rooms. Like, the Browns, who said they weren't interested this season.
"It was for the same reason we didn't feel super comfortable having a camera in the draft room," Browns coach Mike Pettine said this week. "Let's get through the first time, let's get through the first year ... There are positives and negatives to doing it."
Coming off a 4-12 season after three straight playoff appearances and five straight winning seasons, the Falcons training camp could be interesting as coach Mike Smith, who could be on the hot seat with another uneven performance in 2014, tries to prove 2013 was a fluke.
Already, the Falcons have had bad news this offseason with the loss of linebacker Sean Weatherspoon to an Achilles tendon tear.
Still, there's optimism in Atlanta.
"We have a good football team," quarterback Matt Ryan told CBSSports.com's Pete Prisco recently. "We had so many injuries last season that it took a toll. No disrespect to anybody, but there were times when I would look around the huddle and wonder who was playing X or who was playing Z. We will get back this season to being a good football team. This is a good roster."
We'll get an up close look during training camp to see if he's actually correct. 
Show Comments
Hide Comments
As one exec put it, 'We don't know what the hell they were doing'

Beast Mode is headed to Oakland, but made sure to thank the people of Seattle on his way o...

The Broncos only drafted Kelly after first talking to his uncle, Jim Kelly
Whaley was on borrowed time, and now Sean McDermott gets his best shot at building a winne...

The Cowboys owner maintains that Gregory has the organization's full support

No teams did bad enough to earn an 'F,' and give credit where it's due to the 49ers(!) and...