Falcons WR Roddy White ruled out for Week 8 vs. Cardinals
The Falcons have ruled out Roddy White (ankle/hamstring) for Sunday's game against the Arizona Cardinals.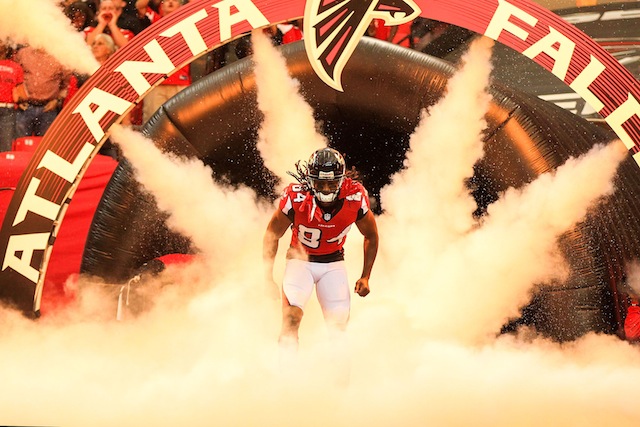 Atlanta Falcons wide receiver Roddy White officially has a new streak going now.
White, who played in 133-consecutive games before missing the Falcons Week 7 game against Tampa Bay, will miss his second game in a row due to the same hamstring and ankle injuries that sidelined him for the Tampa Bay Buccaneers game. 
It's been a rough month for the iron men of the NFL. Three players who hadn't missed a game in over eight years all missed a game in October. Besides White's 133-game streak, the 134-game streak of Dallas Cowboys defensive end DeMarcus Ware also ended. The 189-game streak of Indianapolis Colts wide receiver Reggie Wayne will officially end in Week 9. Wayne tore his ACL against the Denver Broncos in Week 7 and will miss the Colts next game on Nov. 3. Indianapolis has a Week 8 bye. 
The longest active consecutive games streak by a non-kicker currently belongs to Washington Redskins linebacker London Fletcher , who's played in 246 straight games dating back to 1998. 
As for White, before Week 7, he had never missed a regular season game in his nine-year career. Quarterback Matt Ryan made the most of a bad situation in Week 7, playing without White or Julio Jones (fractured foot), Ryan threw for 273 yards and three touchdowns in a 31-23 win over Tampa Bay. 
Falcons receiver Harry Douglas , who shot up the depth chart after the Jones and White injuries, caught seven passes for 149 yards and a touchdown in the win. 
Backup running back Jason Snelling (ankle) has also been ruled out. With Steven Jackson still hobbled by his hamstring injury, the Falcons could find themselves relying on Jacquizz Rodgers against Arizona. 
Show Comments
Hide Comments
Receivers surprise in the top 10, Alabama goes MIA in the top 15 and more 2017 NFL Draft t...

Florida State RB Dalvin Cook will kick off Day 2 of the draft

There were a lot of good moves made during the first day of the 2017 NFL Draft
It seems that fans in Chicago feel like the Bears may have gotten ripped off

Round 1 is in the books -- and here's a recap of all the rumors, picks, trades and analysi...

Here's everything you need to know about the 2017 NFL Draft