FLASHBACK: Steelers only spent $13.1M for entire team's salary in 1990
On average, Ben Roethlisberger makes more money in one season than the entire Steelers roster made in 1990.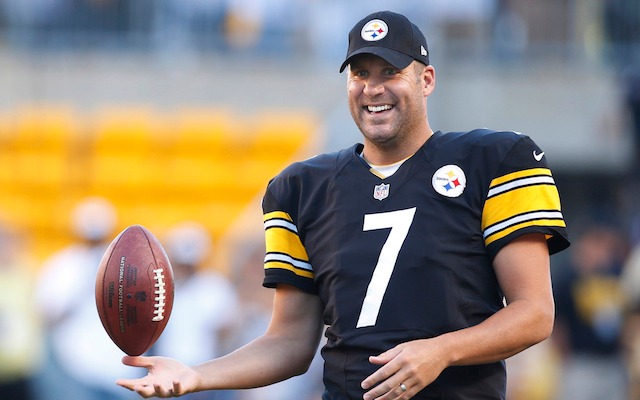 If you want to know how much the NFL has changed since 1990, all you need to do is look at Ben Roethlisberger 's salary. Under his current contract, the Pittsburgh Steelers quarterback makes an average of $14.7 million per year, that's $1.6 million more than Pittsburgh's entire team made in 1990.  
Twenty-four years ago, the Steelers had the lowest team salary in the NFL at $13.1 million, according to the Baltimore Sun. Pittsburgh was one of five teams with a team payroll under $16 million that year. The other teams were the New Orleans Saints ($14.1 million), Los Angeles Chargers ($15.0 million), Arizona Cardinals ($15.4 million) and Dallas Cowboys ($15.8 million). 
Being cheap almost paid off for the Steelers as they went 9-7 and finished in a first place tie in the AFC Central. However, Pittsburgh would miss the playoffs after losing tiebreakers to the Bengals and Houston Oilers. The 1990 season was the first year the NFL expanded the playoffs to 12 teams. 
Although there were several players who made over a million dollars that year, neither the Saints or the Cowboys had a player who made over $900,000, according to the Seattle Times. Troy Aikman was the Cowboys highest paid player ($865,000) while Steve Walsh earned the most in New Orleans ($800,000).  
The player with the highest average salary in 1990 was San Francisco 49ers quarterback Joe Montana, who was pulling in an average of $3.25 million per year. Thanks to Montana's pay, the 49ers had the highest team salary in 1990, paying out a total of $26.8 million.
That $26.8 million didn't buy the 49ers a Super Bowl title though. The team with the sixth-highest total salary ($20.52 million) beat the team with the seventh-highest total salary ($20.46 million) in 1990 when the New York Giants beat the Buffalo Bills in Super Bowl XXV. 
Here are the five highest team salaries from 1990 (The salary cap wasn't instituted until 1994 when the league had a $34.6 million cap. The 2014 salary cap is $133 million)
1. 49ers: $26.8 million
2. New York Jets : $22.5 million
3. Oakland Raiders : $21.5 million
4. Washington Redskins : $21.5 million
5. Cleveland Browns : $20.8 million
Here are the five highest paid players in the NFL in 1990 by average salary
1. 49ers QB Joe Montana: $3.25 million
2. Bills QB Jim Kelly: $2.6 million
3. Philadelphia Eagles QB Randall Cunningham: $2.56 million
4. Indianapolis Colts RB Eric Dickerson: $2.51 million
5. Browns QB Bernie Kosar: $2.33 million
The pass rusher thinks he is being misused by Kansas City

The legendary Rams running back wants to see Sean Mannion play instead of the No. 1 pick

A 911 call from the Uber driver sounds pretty terrifying
The Falcons quarterback thinks more checks and balances could have helped Atlanta

The HOF will not stop the Juice from showing up at the ceremony to honor the new inductees

Raiders fans are probably going to be jealous of Tiger's pool table