For now, Bills plan to start Jeff Tuel against Patriots in Week 1
On Monday, Bills coach Doug Marrone said he'll start Jeff Tuel against the Patriots in Week 1 if E.J. Manuel isn't ready.
• 1 min read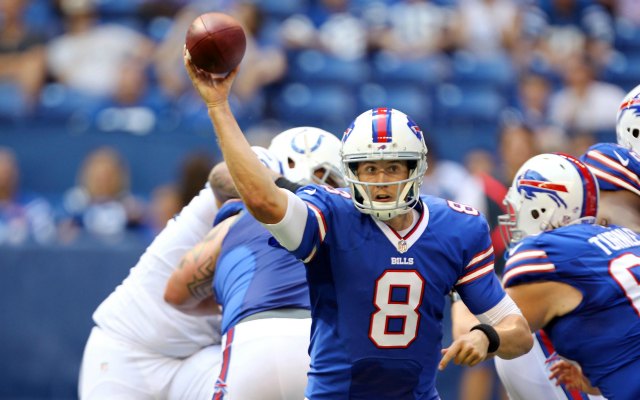 With the quarterback mess in Buffalo -- E.J. Manuel won't play the rest of the preseason after knee surgery and Kevin Kolb's career reportedly is in jeopardy after another concussion -- coach Doug Marrone has come to the following conclusion.
He said Monday that, for now, he plans to start Jeff Tuel against the Patriots in Week 1.
So, um, good luck with that Jeff Tuel.

Marrone said he was hopeful Manuel could participate in that game in some fashion -- and Marrone could still change his mind based on Manuel's health. But for now, he's counting on Tuel, an undrafted free agent out of Washington State, to run with the first team.
Remember, the Bills also just signed former first-round Matt Leinart to a deal, so it wouldn't be THAT outlandish to think Leinart could get playing time as well if he's needed.
"Jeff has gotten most of the reps and you saw there are some things that we've got to do a better job getting him prepared for and he has to do a better job executing on the field," Marrone said Saturday. "It is a concern and we knew that going in. I made that decision that we were going in with three quarterbacks knowing we had to get them all ready. And this is the situation that we're in and we have to deal with."
Remember: four months ago, Tuel was an undrafted free agent who signed on as the Bills third-string quarterback. Now, he very well could make his NFL debut starting against the Patriots. And here's some additional perspective


Jeff Tuel, the Bills' planned Week 1 starting quarterback, does not have a Wikipedia page.

— Jack Dickey (@jackdickey) August 26, 2013
According to Grantland.com, it appears as though no quarterback since the NFL-AFL merger has gone straight from the undrafted free agent ranks to starting as the team quarterback in Week 1. But there is this:


In 1970, rookie UFA Don Gault started for the Browns in Week 3 and went 1-for-16 for 44 yards with 2 picks. And beat Terry Bradshaw, 15-7.

— Bill Barnwell (@billbarnwell) August 26, 2013
Follow Josh Katzowitz on Google+
Show Comments
Hide Comments
Here's everything you need to know about the 2017 NFL Draft

Will Garoppolo be Tom Brady's backup in 2017 or will he be dealt Thursday?

Ben Roethlisberger, Alex Smith and Carson Palmer get youngsters to mentor in Prisco's final...
Plus Jonathan Allen falls further than expected and the Saints double dip in the secondary

Lynch's mother made the revelation during a radio appearance

Jon Robinson has been responsible for five trades since he was hired in January 2016