For the gambler in you, Week 8: Cowboys to cover, Clemens to fail
Will Tony Romo outduel Matthew Stafford? Josh Katzowitz examines that and a few other notable games in Week 8's For The Gambler In You.
• 3 min read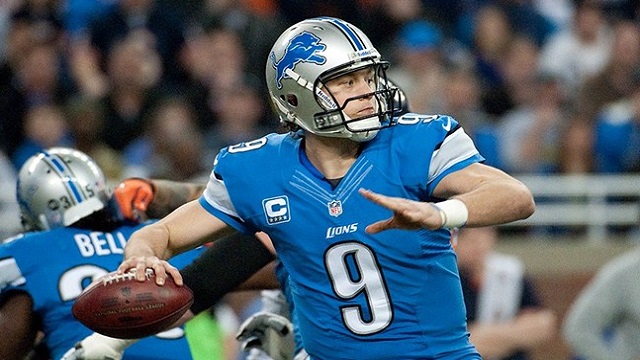 Each week, we'll take the best -- and most clever -- odds collected by Bovada for the upcoming week and give our take. This is important stuff, perhaps the most important post you'll read all week. Because if you can't lose money while watching a game in which you have absolutely no effect, what's the point of watching sports at all?
Note: Home team is listed first in Against the Spread.

Game One:

Detroit Lions

-3.5 vs.

Dallas Cowboys


Sunday, 1 p.m. ET, FOX
2013 Against The Spread

Overall: 4-3
Overall: 6-1
Home: 2-1
Home: 4-0
Away: 2-2
Away: 2-1
2013 Team Rankings


Pass offense: 5th
Pass defense: 29th
Rush offense: 21st
Rush defense: 12th
Pass defense: 27th
Pass offense: 8th
Rush defense: 22nd
Rush offense: 24th
Verdict: This game features two of the top-four passers in the NFL this season (Detroit's Matthew Stafford is No. 3 with 2,129 yards and Dallas' Tony Romo is No. 4 with 2,010), so it would not shock to see this game develop into a shootout. Losing defensive end DeMarcus Ware won't help the Cowboys, but I like them to travel to Detroit and pull off the win. It's time for Dallas to take control of what's been a subpar NFC East and prove it's ready to make a playoff run with its $100 million quarterback. Beating the Lions on the road will go a long way toward doing that.
Game Two:

Cincinnati Bengals

-6.5 vs.
New York Jets
Sunday, 4:05 p.m. ET CBS

2013 Against The Spread

Overall: 4-2-1
Overall: 5-2
Home: 3-0
Home: 3-1
Away: 1-2-1
Away: 2-1
2013 Team Rankings


Pass offense: 9th
Pass defense: 9th
Rush offense: 18th
Rush defense: 2nd
Pass defense: 12th
Pass offense: 21st
Rush defense: 8th
Rush offense: 11th
Verdict: As I wrote here, I'm not exactly sure why the Jets are almost a touchdown underdog vs. the Bengals, who have been too inconsistent this season in order for me to feel good about picking them in this spot. While Geno Smith has been a little up and down, his continued improvement and his chemstry with his skill players will keep this game close. I think Cincinnati ultimately will win the game, but the Jets will keep it close enough to cover. 
Game Three (largest spread of week):

Jacksonville Jaguars

+16.5

San Francisco 49ers

(in London)
Sunday, 1 p.m. ET, FOX
2013 Against The Spread

Overall: 1-6
Overall: 5-2
Home: 0-3
Home: 3-1
Away: 1-3
Away: 2-1
2013 Team Rankings


Pass offense: 21st
Pass defense: 5th
Rush offense: 32nd
Rush defense: 17th
Pass defense: 13th
Pass offense: 30th
Rush defense: 31st
Rush offense: 3rd
Verdict: Thus far this season, the Jaguars have been brutal on the road, and somehow, they've been even more brutal at home. So, I'm guessing they'll also be brutal while playing in London. Combine that with the 49ers offense playing well -- in the past four games, San Francisco has scored at least 30 points -- and this one might get ugly (just like most of Jacksonville's games, honestly). One piece of good news for Jacksonville: Chad Henne , who will start at quarterback, has been better than Blaine Gabbert . But that certainly doesn't mean I think Jacksonville will cover. I'll go 49ers.
PROP BETS
Kellen Clemens -- Total passing yards Week 8 vs. Seattle  
Over/Under   195½
Clemens, who takes over for the St. Louis Rams after quarterback Sam Bradford suffered a season-ending ACL tear last week, hasn't started an NFL game since 2011. He hasn't won a game as an NFL starter since 2009. In 12 career starts, Clemens has thrown for less than 195 years five times, and if you consider his rust and the fact Seattle's pass defense ranks second in the league by allowing 190.6 yards per game, I'd advise you to go under, under, under.
Jamaal Charles -- Will he record 100 or more combined rushing and receiving Yards and score a TD Week 8 vs. Cleveland? (Note: Charles has done this every game this season and is two away from O.J. Simpson's record of 9)
Yes   -140 (5/7)
No   EVEN (1/1)
Charles quietly is having one of the best seasons of any running back in the league, and he has the most fantasy points of any other back in the NFL. Though the Cleveland Browns have the seventh-best defense, they've allowed the last two running backs they've faced (Green Bay's Eddie Lacy and Detroit's Reggie Bush ) to gain at least 100 total yards and score one touchdown (and in the game before that, Buffalo's Fred Jackson had 93 total yards and two scores). I think the opposing running back success streak will continue; go yes on this bet.
Last week: 2-1 against the spread; 1-1 on prop bets. Overall this year: 12-9 against the spread, 9-8 on prop bets. Last two years: 38-44 against the spread; 43-25-1 on prop bets.
See my picks and all the CBSSports.com experts here.

Show Comments
Hide Comments
The Steelers quarterback is focused on 2017 now

The former 49ers coach admits it was his fault

Johnson talked to Roger Goodell a few times before the rule change on TD celebrations was...
Franchise QBs are the only road to success nowadays; unfortunately, they're impossible to...

The wide receiver isn't in the best shape of his life after a down 2016 season

Colleen Smith joins Jen Welter and Kathryn Smith as women who have held NFL coaching posit...