Former Cowboys DT Josh Brent out of jail after 180-day sentence
Josh Brent is out of jail after serving 180 days following his January conviction of intoxication manslaughter.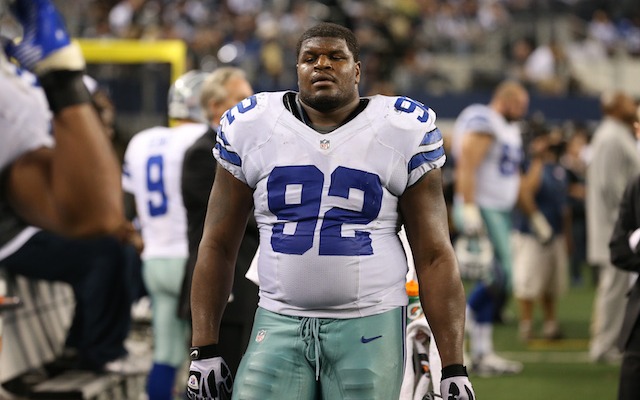 More NFL offseason: League minicamp dates | Latest news, notes
After 180 days, Josh Brent is out of jail. The former Dallas Cowboys defensive tackle was released on Sunday after serving out a sentence that was handed down in January. 
Brent was found guilty of intoxication manslaughter, a charge that stemmed from a December 2012 incident in which he crashed his vehicle and killed Jerry Brown, a close friend and Cowboys teammate. Brent had a blood-alchohol level of 0.18 on the night of the incident.
After being found guilty, Brent was given a 10-year suspended sentence along with probation and 180 days in jail. The suspended sentence for Brent means he'll be on probation for the next 10 years.
Now that Brent's out of jail, there's a possibility that he could return to the Cowboys. Earlier this month, executive vice president Stephen Jones left that door open for Brent. 
"The league will have a big say in when he can come back, but we'll certainly evaluate that situation when it comes," Jones told ESPNDallas.com. "I certainly wouldn't rule it out."
Brent could face a fine or suspension from the NFL, but the league could also take into account that he's served jail time and sat out the entire 2013 season.
"It's a work in progress," Jones said. "Obviously they're looking at it and we'll kind of see how it goes. Obviously he sat out a year and the bigger thing is Josh has got to see where his priorities are. There's a lot of things that have got to be determined there."
Show Comments
Hide Comments
Our Latest Stories
The Ravens coach believes that Colin Kaepernick will eventually sign with a team

'Never say never,' the Giants coach said about Peterson potentially joining the team

The Falcons' Super Bowl loss has turned March 28 into the best day of the year
Here's what you need to know from the pro days of Florida, Florida State, Texas and Eastern...

The Browns might be getting a new look in the near future

One particular Vegas-area business is planning to take advantage of the NFL club's impending...