Former New York LB Carl Banks: Giants don't like each other
Former Giants linebacker and current team radio announcer Carl Banks says that one of the Giants problems is that they don't like themselves or each other.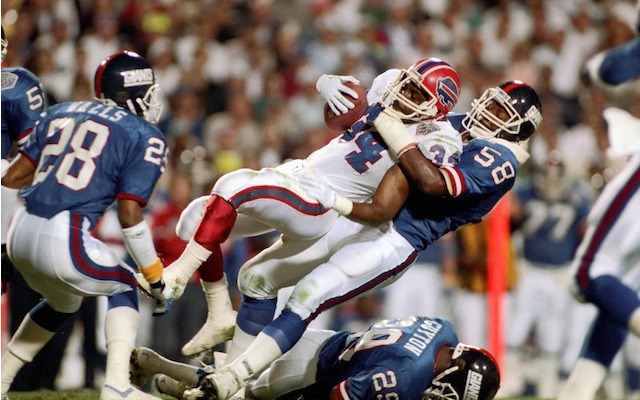 Former New York Giants linebacker Carl Banks knows a little bit about New York Giants football. Banks spent nine of his 12 NFL seasons with the Giants (1984-92) and won two Super Bowls with the team. 
Banks also has a front row seat to the 2013 Giants thanks to his job as a radio analyst for the team. And from that front row seat Banks doesn't seem to like what he's seeing from the 0-3 Giants.  
"They don't like themselves," Banks told WFAN in New York. "That's what it really comes down to. They don't like each other. They're not willing to fight for each other. When you have a premier quarterback in this league, and you don't have enough self-respect -- not for him, but for yourself -- to protect him to do your job, I think it speaks volumes. I think these guys really do need to all stand in (front of) the mirror, and it's gut-check time."
Protecting the quarterback has been a problem for the Giants. Eli Manning has been sacked 11 times the season, tied for second most in the NFL. Manning was sacked seven times in the Giants 38-0 loss to Carolina on Sunday, marking the most times he's been sacked in a game since 2008. 
"I think the most disturbing aspect of it is... I don't think I've ever seen a team just not show emotion as they were just getting pummeled," Banks said. "I don't advocate fighting, but show some emotion. Show that you care that your quarterback was sacked six times in the first quarter."
The schedule doesn't get any easier for New York. If the Giants want to avoid 0-4, they'll have to go on the road to Kansas City and knock off the undefeated Chiefs. 
Show Comments
Hide Comments
Players can now sell their data as the NFLPA looks to advance player safety

Ross looks like the perfect replacement for Brandin Cooks in the Big Easy

The former Bucs and Raiders star only sees 'splash plays' with the Texas A&M defensive end
Expect four QBs to come off the board and for Reuben Foster not to fall out of the first r...

John Lynch needs a franchise QB, but he also said the 49ers were open to trading the pick

From busts to Super Bowl-winning underdogs, 10 NFL Drafts have churned out a disparity of...