Former NFL QB Jared Lorenzen weighs in on new NCAA food policy
At 320 pounds, former NFL quarterback Jared Lorenzen is a big guy, a big guy who wishes he still had some college eligibility left after the NCAA passed a rule allowing athletes more food.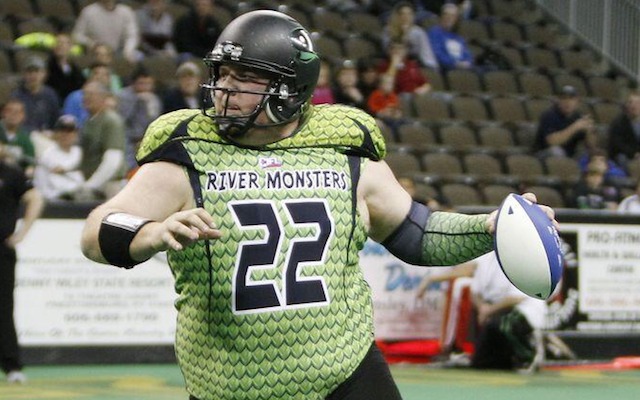 The last time we saw former NFL quarterback Jared Lorenzen, he was playing indoor football and he looked like -- well, you can see what he looked like in the photo above. Lets just say, he's put on few pounds since taking his last NFL snap in 2007. 
The 'Hefty Lefty' might not be in the NFL anymore, but he's still on Twitter, which is a good thing because it allowed him to weigh-in on the NCAA's decision to allow schools to give unlimited amounts of food to their athletes. Lorenzen attended Kentucky from 2000-03 when athletes didn't get unlimited amounts of food.  
The 320-pounder's reaction: 
I'll tell u what the NCAA really lucked out that I don't have any eligibility left.

— jared lorenzen (@JaredLorenzen22) April 15, 2014
This should come as no surprise, after all this is the guy who once ate nachos from a fan during an indoor football game. 
@CardSportsZone I was at the game! Here he is wanting some nachos pic.twitter.com/RIffxsiQML

— Neal Thompson (@CengageNeal) February 4, 2014
Show Comments
Hide Comments
Our Latest Stories
The Redskins corner is probably going to want to get out his checkbook

The Stanford star could stay in the Bay Area and would add another dimension to the Oakland...

There's an ugly downside to joining Colin Kaepernick's cause
With Jimmy Garoppolo and Jacoby Brissett dealing with injuries, the Pats' QB situation has...

Everything you need to know for Cowboys at 49ers on Sunday

Will Patriots be 4-0 when Tom Brady returns in Week 5?