Former WR Donte Stallworth remembers deadly DUI accident
Donte Stallworth posted a message on his Instagram account remember this day from five years ago.
• 1 min read
In 2009, Donte Stallworth drove drunk one March morning, and he slammed into Mario Reyes, killing the 59-year-old man who was crossing the Miami street in a rush to catch a bus. Stallworth pleaded guilty to DUI manslaughter, and though he could have been sent to prison for 15 years, he only was sentenced 30 days in jail.
He was suspended by the NFL for the entire 2009 season, but he was allowed to play again for three more seasons.
Lest you forget Stallworth doesn't think about his actions, here's what he posted Friday on his Instagram account.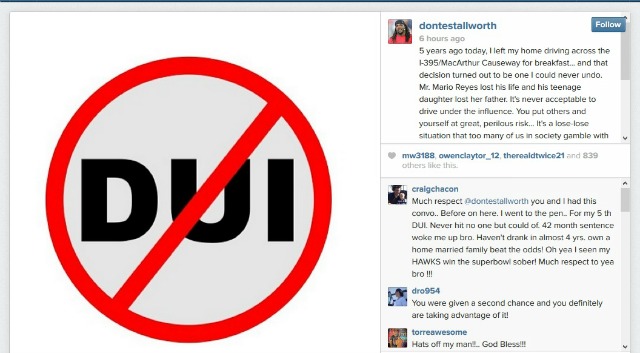 Here was Stallworth's entire message.
"5 years ago today, I left my home driving across the I-395/MacArthur Causeway for breakfast... and that decision turned out to be one I could never undo. Mr. Mario Reyes lost his life and his teenage daughter lost her father. It's never acceptable to drive under the influence. You put others and yourself at great, perilous risk... It's a lose-lose situation that too many of us in society gamble with far too often... And it's 100% preventable. Take care of your people when you know they shouldn't be driving. Plan ahead and be responsible. There's nothing I can do to reverse that day, but hopefully you guys will think of me and make better decisions than I did that morning. You don't want to live with these regrets I have from my irrevocable decision... Trust me. #BeSmarter"
Show Comments
Hide Comments
Benjamin has had weight issues going back to college

College players who didn't get drafted are now free to sign with any team in the NFL

As one exec put it, 'We don't know what the hell they were doing'
Beast Mode is headed to Oakland, but made sure to thank the people of Seattle on his way o...

The Broncos only drafted Kelly after first talking to his uncle, Jim Kelly

Whaley was on borrowed time, and now Sean McDermott gets his best shot at building a winne...