Freeney not still edge beast at 33, but may prove big for Chargers
Dwight Freeney is 33 and coming off a down season, but the once-great Colts pass rusher still has lots to offer a Chargers team trying to turn things around.
• 7 min read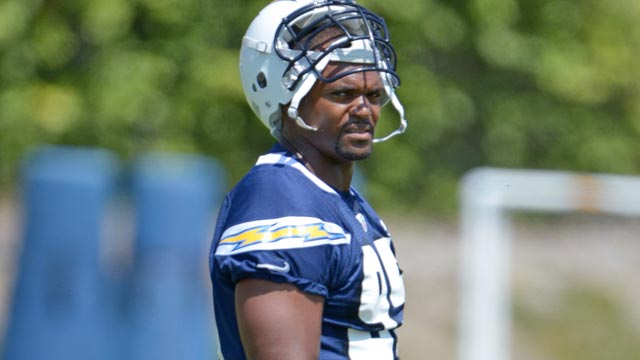 SAN DIEGO -- Dwight Freeney remains a presence.
He might not be one of the game's premier pass rushers anymore, now entering his 12th season at age 33, and he is clearly coming in off the worst of those seasons since he burst on to the national scene as a rookie. When football people talk about him now, they may reference his leadership, knowledge, dedication to conditioning and intangibles before they get around to mentioning his on-field prowess.
And the reality for all players at this stage of their careers, in this sport in particular, is that it's now unfair to compare them to their past selves, the years when they dominated without seemingly even trying. They will never be that ferocious and robust again. But for Freeney, in his first camp with the Chargers and first pro football dalliance anywhere other than Indianapolis, there remain ways he can contribute both on Sundays, and to the larger cause ongoing here with a new regime in place led by first-time head coach Mike McCoy and first-time general manager Tom Telesco.
It would be unfair to compare Freeney now to the player he was (from 2002-2011 only Jared Allen had more than Freeney's 102.5 sacks), because age and years don't work that way, particularly in this above all other sports. He is indeed fighting time now, and will never be as ferocious and robust as his former self. But the Chargers will do their best to massage his reps across a long, daunting season -- Telesco knows him well from their time together with the Colts -- realizing this is not about maximizing snaps but best exploits those opportunities when down, distance, score and momentum best position Freeney to flash as he once did.
And Freeney is already contributing, too, in the way he flashes that big smile, exudes a desire to be right here playing football at camp above anything else, with the encouraging pats and words he has for rookies and the little tidbits of wisdom he imparts during drills. His buy-in to what is going on here is a resounding stamp of approval for others to see, and while this team and roster are still a work in progress, Freeney will inspire plenty of good will if not seismic production.
"He's a true pro, he knows how to do it; he's one of the best pass rushers of all time," McCoy said, "and the younger players have got to grasp this opportunity ... to listen to him, to watch what he does, the way he approaches every day. It's not only the field, it's the way he takes care of his body off the field. What he did in the offseason form the day he left, to his reporting weight when he got back.
"That's a true pro. That's what it takes. And opportunities don't often come around to play with a guy like this. So if you're smart and you're a young player, you're licking your chops every day, so make the most of it."
On Thursday, no young man learned more from Freeney's tenacity and level-headed mentality than first-round pick D.J. Fluker. The tackle was beaten soundly by Freeney on a move -- in pads and shorts -- had a brain cramp, and ended up taking the future Hall of Famer to the ground in what could have been a compromising position. Rather than explode or incite things further, Freeney used it as a teaching moment with the youngster.
"Everybody is out here trying hard and playing as hard as they can," Freeney said. "And I beat him on a move and I know I remember when I was a rookie I just went 130 percent no matter what, and every play is game day. And maybe in the game that would be OK, but here I can't hit (quarterback Philip) Rivers. So when he hits me it's kind of funny.
"I was laughing on the way down because I already knew what was going to happen. I was like, 'I've got a young guy here, he's probably going to blow me up.' And he blew me up. That's part of the game and it's part of learning and he's going to be a great player and he'll learn how to practice. He's shown some great things so far."
A contrite Fluker said: "I'm embarrassed. I apologized to him for it."
If anything, the Chargers would do well to treat Freeney with some of the reverence shown to Rivers and quarterbacks this time of year. Freeney suffered through hobbling injuries a year ago and was never quite right, though he did manage to appear in 14 games. He registered just 10 tackles, two assists and five sacks, and there were plenty of evaluators around the league who figured he might be done.
After lingering on the free agent market for some time, Freeney ended up in San Diego on a deal worth a maximum of two-years, $13.35 million that is truly more like a one year, $4.75-million deal with the chance to earn a $3 million base in 2014 and significantly more should he register big sack numbers. He wasn't a great fit in the Colts' move to a 3-4 defense last year, but the Chargers feel like he will find a place here as technically an outside linebacker again.
"For free agency it always seems like it's big if you have people who know the player and know whether he's going to fit your culture or not," Telesco said. "It's more than just watching the tape. So that was big that I knew him, and he's been in a winning program and he's a leader in a different sort of way. He's not a rah-rah guy, but he's big on -- and even though he got stepped on today -- he walks up to players a lot and will school them up. He likes doing that."
Telesco has seen Freeney pass on many of the old tricks of the trade he learned from Colts former defensive line coach John Teerlinck, and with pass rush being so lacking here and with emerging youngster Melvin Ingram tearing his ACL in May (the Chargers are hopeful he's back for the second half of the season), the need for someone like Freeney was acute.
"Obviously, we still think he has some snaps left rushing the quarterback," Telesco said. "We know what he does best, and we're going to use him in that role. We're not so caught up in hand up, hand down. Essentially, the outside linebacker spot in our defense is really a 4-3 defensive end; he's rushing the quarterback 90-plus percent of the time.
"It's not a lot different and I know last year his sack numbers were down, but his pressure and quarterback hits and making quarterbacks move, those were about in his ballpark for what they usually were. He's going to help us, no doubt. They didn't get a whole lot of pressure on the quarterback last year."
This first session was definitely unusual for Freeney, his first not with the Colts, though he seems to be taking to the reduced humidity and overall scenic locale of Chargers camp versus what he is used to.
"New is not always bad," Freeney said. "Change can be good, especially for me."
He was most excited about having procured his old number, No. 93, from its previous holder, defensive tackle Cam Thomas, with Freeney's gratitude overflowing.
"I feel like I'm me again," Freeney said, vowing to be on-call for Thomas for whatever he needs, particularly if Jamaican cooking is in order. "He has my number on speed dial. He knows whatever he needs, I got him."
So while the days of 13-sack seasons and Pro Bowls and massive contracts are gone for Freeney, he remains someone who can impact a team for the better. His mentorship should bring out the best in Ingram, and perhaps even Larry English, who has looked like yet another draft bust from late in former general manager A.J. Smith's tenure. Having Freeney around can't possibly hurt this team in transition, though counting on him to be a game-breaker would be naive as well.
"I know he's hungry," Rivers said. "He obviously had some injuries last year and never really got to full strength. I'm not insinuating he's at the end of his career, but I know he wants to finish this thing strong, whether it's five, six, seven more years, or two or three. Who knows? But I know he wants to finish this thing the right way, and we're really happy to have him here."
The former NFL wide receiver is not worried about retiring as a member of the Panthers

The leaders of the quarterback class of 2015 are heading into the back half of their rookie...

The Colts quarterback says everything is fine, nothing to see here, folks, move along now
Sherman thinks that all quarterbacks on all NFL teams get treated better than anybody else

The Patriots coach looks pretty cool on the 15th anniversary cover of Nantucket magazine

Taco Bueno has been angling for a deal with Charlton ever since he was drafted