Game Trends: Patriots in tough spot without Rob Gronkowski
If Tom Brady makes a Super Bowl run without his all-world tight end Rob Gronkowski he is the true MVP of the NFL.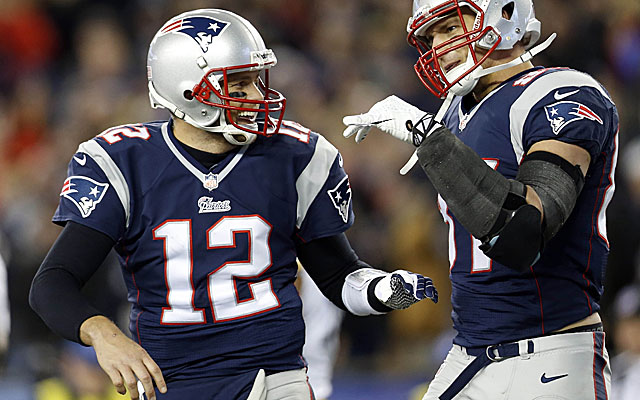 As teams close in on the playoffs there are plenty of questions about teams and players. Here's a look at what you might suspect going forward in the month of December and into January.
If the playoffs started today
Keep in mind home field throughout the playoffs has not been established. Of the 12 quarterbacks currently scheduled for the playoffs, Joe Flacco has the best road record in the playoffs, but no one else has played as many as five such games -- Tom Brady is 3-2 and Peyton Manning is 2-3.
Cam Newton , Nick Foles and Alex Smith have never started a road playoff game, and Drew Brees , Andy Dalton and Matthew Stafford are a combined 0-6.
Funny how no one thinks Mark Sanchez can start in the NFL yet he has a 4-2 postseason road record with more touchdown passes (nine) than Brady or Manning, who have six each.
What are the
New England Patriots

without Gronkowski?

The Patriots were 5-1 to start the season without Rob Gronkowski and 5-2 with him. Gronk covered up a defense that was decimated by injuries. Before Gronk played the Patriots were giving up 19 points a game. After he got back on the field which coincided with the losses of Vince Wilfork , Tommy Kelly and Jerod Mayo the defense was giving up 27 points a game. Now the Patriots face the same defensive problems without Gronk to overcome them.

In the red zone the Patriots were fourth with Gronk and 30th without him. As for passing yards per game, third with him and 19th without him. And as far as moving the chains, second with him and 16th without him. If Brady can pull off a Super Bowl run with all the adversity his team faces now than he is the MVP of the NFL.
What are the Colts without
Reggie Wayne
Everyone has noticed life without Reggie Wayne is having a big impact on the Colts. Take a look at this chart to see what is going on and realize the loss of Wayne has had a ripple effect on the Indianapolis defense.
2013 Indianapolis Colts
 
WITH REGGIE WAYNE
WITHOUT REGGIE WAYNE
Record
5-2
3-3
Points per Game
27
21
3rd Down Conversion
42.7
29.3
Time of Possession
30:23
26:11

Andrew Luck

without Wayne
Completion %
60.7
56.7
TD/INT
10/3
9/5
Colts defense
Points allowed
19
31
There is some criticism of the low tackle that blew out Gronkowski's knee and ended his season, but with the rules what they are and the problem of bringing big tight ends down the safeties have no choice but to go low and bring the big guys down or get carried for a first down or even worse a touchdown.
If Troy Polamalu employed the same technique BJ Ward applied in the Cleveland-New England game Clay would have gone to the ground. Instead Clay shook off the tackle and walked into the end zone for what turned out to be the winning score. The same issue happened in the Chicago-Dallas game as Jason Witten kept defenders away from his legs and went 10 yards for a score.
For as much time as people think coaches are going over safety issues defensive back coaches are going over getting receivers especially big tight ends to the ground and most of the time that means aiming low and bringing down a guy that may be 50 pounds heavier and four inches taller.
Should the Bears switch quarterbacks now?
It's one thing to say the Bears will play Cutler when he's ready and it's another thing to do it with the way Josh McCown is playing and getting to the playoffs is on the line. Leaving the hot hand on the bench could be risky business if it comes to it. Here's what Marc Trestman has to deal with if Cutler is truly healthy and 100 percent ready to go:
McCown is 3-2 in games started as opposed to Cutler, who is 4-4 in games started. McCown averages 309 yards passing a game while Cutler averages 239. McCown has 11 touchdown passes to just one interception and one lost fumble while Cutler has 13 touchdowns to eight interceptions and three lost fumbles. When it comes to running with the ball McCown has a touchdown and five first downs while Cutler does not have a touchdown and five first downs.
Those who argue McCown hasn't played tough pass defenses have a point with none of his five opponents even in the top half of the NFL in pass defense and had an average ranking of 24th. Cutler faced three pass defenses in the top half of the NFL and his eight opponents averaged 18th in the NFL.
I asked two head coaches off the record what they would do in this situation and both said ride the hot hand for now.
Can the Saints win outside in the cold during the playoffs?
The Saints in the Drew Brees era have only played seven games outside in cold weather and only once in the playoffs. Their last three games when the wind chill brought the temperature under 32 degrees turned out to be two wins and a loss and Brees played well in all three games. The facts of the matter are that Brees and his Saints haven't played in those conditions since 2010 and no one knows what will happen.
Peyton Manning gets accused of the same problem but keep in mind in the case of the Brees and Manning when he played in Indianapolis all of their cold weather games were away games. Having home games in the cold with Tom Brady and Ben Roethlisberger will increase the chances of having a better record.
Will Peyton Manning break the passing touchdown record?
Tom Brady holds the passing touchdown record with 50 back in 2007 when he threw the ball 578 times during the Patriots 16-0 season. The irony of Manning chasing Brady is the fact the Patriots are chasing the Broncos right now for home field throughout the playoffs, which means Manning needs to keep winning and the best chance of that is to keep throwing.
Peyton already has 45 touchdown passes with three games to go and the numbers and percentages tell the story about breaking the record. Manning averages 41.4 throws a game and that should equate to 124 more pass attempts in the last three games. Manning throws a touchdown pass 1:12 attempts and that equates to 10 touchdown passes if he just stays on the pace he has been on all year. He has already played two of his final opponents earlier this season Oakland and San Diego and he connected on seven touchdown passes in those two games which if he repeats his performance would put him over the top. He also faces Houston indoors and in 2012 threw two touchdown passes against them.
It looks like he will have plenty of opportunity to hit six touchdown passes over the last three games to break the record. His worst three-game stretch this season was San Diego-Kansas City-New England and he still managed seven scores in those three games. The record looks like a lock when you consider all that's at stake for the Broncos and the fact that the Chargers (No. 30), Texans (No. 23) and Raiders (No. 29) don't rank highly in pass defense.
I would venture to say Manning finishes with 53 touchdown passes and a new record.
Show Comments
Hide Comments
The Cowboys' draft picks since 2002 have been to 17 more Pro Bowls than the next closest t...

The Cardinals, however, don't sound enthused about his return

According to NFL Network's Michael Silver, the Browns might want to trade up to draft a franchise...
The projected top-20 pick could fall out of the draft with teams having little time to gather...

Bryant will have his progress reviewed again before the coming season

From Jadeveon Clowney to Odell Beckham, here's the option year prognosis for each 2014 first-round...