Gary Kubiak makes appearance at Texans' Thursday practice
Texans coach Gary Kubiak made a cameo appearance at Houston's practice on Thursday. It was Kubiak's first trip to the team's facilities since suffering a mini-stroke on Sunday.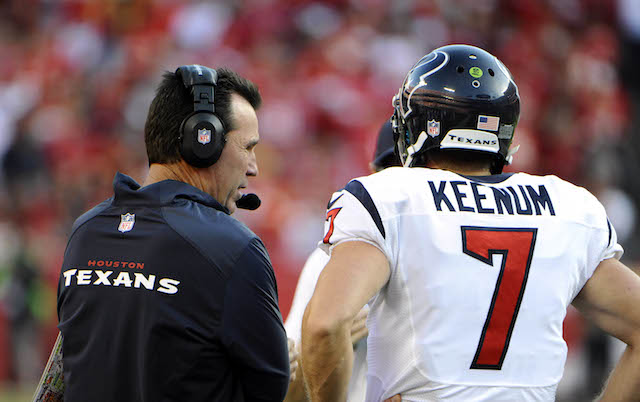 Texans coach Gary Kubiak isn't expected to return to the Houston sideline until Week 11 at the earliest, but he did find the energy to make a brief appearance at the Texans practice on Thursday.
It was the first time Kubiak's been at a Texans practice since suffering what the team called a 'mini-stroke' at halftime of Houston's game against Indianapolis on Sunday night. Kubiak fell to the ground just before halftime and was rushed to the hospital.
The 52-year-old coach suffered a transient ischemic attack (TIA). TIA is considered a "warning stroke" and occurs by a temporary blood clot. Kubiak was released from the hospital on Tuesday and had been at home recovering since then. 
After Thursday's practice, Kubiak spoke with the team, according to interim coach Wade Phillips. "He talked to the players a little bit and everybody was excited to see him," Phillips said, via the Texans official website. "He looked pretty good so that was really the highlight. We had a good practice. I thought our guys were really into it."
Although Thursday marked Kubiak's first time at the team's facilities since Sunday, he has been in contact with both Phillips and offensive coordinator Rick Dennison. 
"I will say this, I've spoken with him," Dennison said on Wednesday. "He's called me more than I've responded, but I did respond. He's more or less just making sure everything is OK around here. He has great concern for the team and the players and the coaches. We just tell him to rest and relax. He has not really brought up any football facts. He just wants to make sure everybody is operating and that everybody is staying positive and that we're up there grinding."
Barring any setbacks, Kubiak is expected to return for the Houston's Nov. 17 game against Oakland. However, when you're talking about someone's health, nothing is set in stone. Until Kubiak does return, Phillips will serve as interim coach. The 66-year-old defensive coordinator has a 82-61 career record as a head coach. 
Show Comments
Hide Comments
Both teams blasted the reports of a potential Kirk Cousins deal during Round 1 of the draf...

After an unpredictable Round 1, here are some predictions you can bank on for Rounds 2 and...

Receivers surprise in the top 10, Alabama goes MIA in the top 15 and more 2017 NFL Draft t...
Florida State RB Dalvin Cook will kick off Day 2 of the draft

There were a lot of good moves made during the first day of the 2017 NFL Draft

It seems that fans in Chicago feel like the Bears may have gotten ripped off