Giants give Olivier Vernon a record $52.5M guaranteed: 5 things to know
The Giants just gave Olivier Vernon a HUGE contract. Here's what you need to know.
The Giants continued to make it rain big-time money in free agency and continued to revamp their defense by signing defensive end Olivier Vernon to a huge deal on Wednesday. Jason La Canfora reports it's a record deal for a defensive player in years 1-3.
According to multiple reports, Vernon, who had his franchise tag rescinded on Wednesday by the Dolphins, got a silly contract from the Giants, totaling $85 million over five years.
Here's 5 things to know about the deal.
1. The REAL money: Vernon's deal isn't merely massive in terms of being a huge annual salary ($17 million a year). It also features $52.5 million in guaranteed money. That's more guaranteed money than J.J. Watt got in his $100 million deal from the Texans.
It's the biggest deal for a defensive end ever and a stunner of a contract from a team that typically doesn't spend big in free agency.
2. The production: Vernon has only 29 sacks in his career (or if you prefer, 23.5 less than the number of guaranteed millions he's getting in this deal). Of those 29, though, he had 5.5 during the final seven-game stretch of 2015 when he was lighting it up for the Dolphins.
3. Hmm, Dolphins: So Miami decided not to keep Vernon and to go with Mario Williams (31) and Cameron Wake (34) instead. It's an interesting move when they could've used the franchise tag (non-exclusive even) on Vernon and kept him for another year.
It wouldn't have been cheap, but you have to wonder if the most viable usage of resources is to pay older veterans and let the really talented, cheap young guy walk out the door. 
4. Holy defensive changes: Jerry Reese is going for broke here, even if the Giants have a serious need on the defensive line. Well, had. They were going into free agency with major holes all over the defense.
Now suddenly the defensive line is Jason Pierre-Paul ($10.5 million, one year), Damon Harrison ($46.25 million, 5 years, signed Wednesday), Vernon and someone who costs less money to hang out and occupy blockers.
Reese also spent big money on Janoris Jenkins ($62 million over 5 years) to upgrade his secondary. The Giants are BUSY. We'll see how the March money impacts the January football. But the Giants are a better defense and if the linemen click they are going to be scary for opposing offenses. 
5. Let's play two: The really good news for Vernon and agent David Canter? Because of this contract, Vernon will hit the free agent market again when he turns 30, possibly earlier.
Right now Vernon is 25 (he'll turn 26 in October) and part of the reason why he gets all that money is his age.
The great news for Vernon is he can land another large-money deal if he's productive over the course of this contract.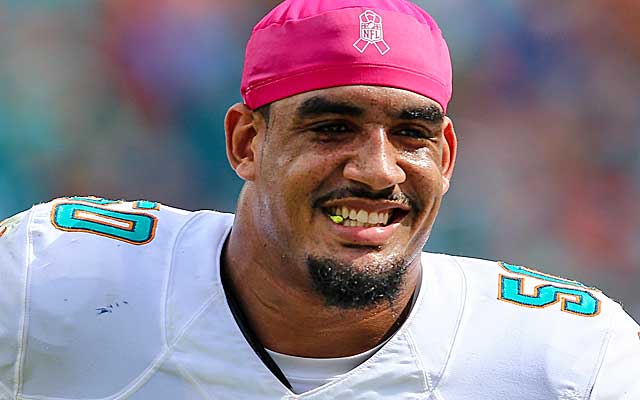 Show Comments
Hide Comments
Our Latest Stories
The Texans' sackmaster appeared to have recovered from offseason surgery and didn't miss a...

Long snapper Kameron Canaday is a free agent after his latest mistake

The Patriots have one more game to endure without Tom Brady
Donald Trump told Colin Kaepernick to leave the country a month ago

The Browns also can't wait on DeShone Kizer, taking the Notre Dame QB at No. 1

Bell will play in his first game after serving his three-game suspension