Giants offensive coordinator Kevin Gilbride announces retirement
Giants offensive coordinator Kevin Gilbride, who's been coaching in the NFL since 1989, announced his retirement on Thursday.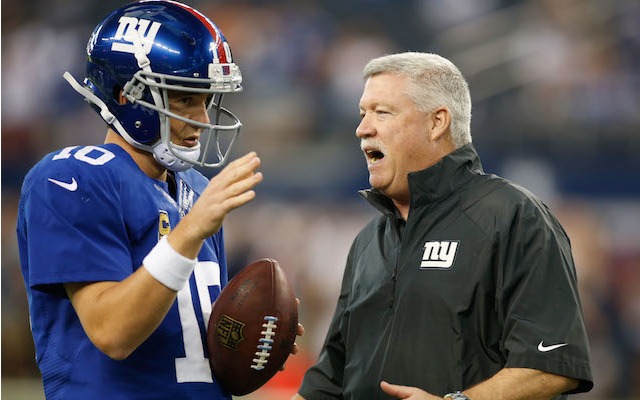 Almost four decades of coaching is enough for Kevin Gilbride. The Giants offensive coordinator announced his retirement on Thursday, 39 years after he accepted his first coaching job as a graduate assistant at Idaho State. 
Gilbride has been coaching in the NFL since 1989 when he was named the quarterbacks coach for the Houston Oilers. The 62-year-old has spent the past 10 seasons coaching with the Giants. 
"It's hard to say, 'It's time.' To finally do it, it's a very unnatural feeling," Gilbride said, via the team's official website. "I've been telling my wife (Debbie) for years I was going to do it. She moved back to Rhode Island (where she helps care for a granddaughter when the Gilbrides' daughter is working), so I've been by myself in the hotel for three or four years. I knew this was it and I was going to do it. I finally pulled the trigger. But it's difficult."
If the life of an NFL assistant sounds glamorous, just re-read that last quote. Gilbride has been living in a hotel for the past three or four years.
Gilbride joined the Giants in 2004 as a member of Tom Coughlin's first coaching staff in New York. Gilbride was also a member of Coughlin's first coaching staff in Jacksonville for the expansion Jaguars in 1995. 
"I have great respect for Kevin and Debbie and their family, so it's not an easy thing to part ways," coach Tom Coughlin said. "Kevin is a professional. He's been an exceptional football coach for the New York Giants. He helped win two Super Bowl championships. Kevin was the play-caller in Super Bowls XLII and XLVI. He has done a great service to the franchise."
Gilbride joined the Giants the same year the team drafted quarterback Eli Manning. In 10 seasons together, Gilbride and Manning would go to the playoffs five times and win the two aforementioned Super Bowls. 
"I have a tremendous amount of respect and admiration for Kevin," Manning said. "I'm really sad to see him retire. He has been with me from day one as my quarterbacks coach and then my coordinator. He really taught me everything I needed to learn to become an NFL quarterback. We've had so much success together, obviously winning our two Super Bowls. His offenses have had great success in this league for many, many years. He's been a great coach and great friend over these 10 years, and I'm definitely going miss him on the field and in the meeting rooms."
During his 24 years in the NFL, Gilbride also held assistant coaching positions with the Bills, Steelers and Jaguars. Gilbride also briefly served as the head coach in San Diego. Gilbride was hired as the Chargers coach in 1997, but lasted less than two seasons and was fired after Week 6 in 1998. 
Show Comments
Hide Comments
As one exec put it, 'We don't know what the hell they were doing'

Beast Mode is headed to Oakland, but made sure to thank the people of Seattle on his way o...

The Broncos only drafted Kelly after first talking to his uncle, Jim Kelly
Whaley was on borrowed time, and now Sean McDermott gets his best shot at building a winne...

The Cowboys owner maintains that Gregory has the organization's full support

No teams did bad enough to earn an 'F,' and give credit where it's due to the 49ers(!) and...