Giants RB David Wilson out for 2014, advised to never play football again
Giants running back David Wilson, who underwent neck surgery in January, might not ever play in the NFL again after being placed on injured reserve on Monday.
More NFL: Photos |  Videos & GIFs |  Training Camp updates | Manziel watch
David Wilson won't play for the New York Giants in 2014 and may never play another down in the NFL. Doctors re-examined the 23-year-old running back Monday, after he went down with a neck stinger during practice on July 29, and told Wilson that they're shutting him down for the season.
The Giants placed Wilson on injured reserve and he's been advised by his doctors to never play football again. 
"Dr. Frank Cammisa Jr., our spine specialist at HSS examined David this morning and following that exam, we both sat down and shared our perspective with David," team physician Dr. Russell Warren said. "David has diffuse cervical stenosis. He had a disc removed and a fusion in January. In light of last week's episode of symptoms, sensory and motor, Frank and I both told David he should not play football any more. We let David know that by playing, he would be putting himself at risk for more episodes like last week or perhaps something more serious."
In a statement released by the Giants, Wilson seemed to be at peace with the decision made by his doctors.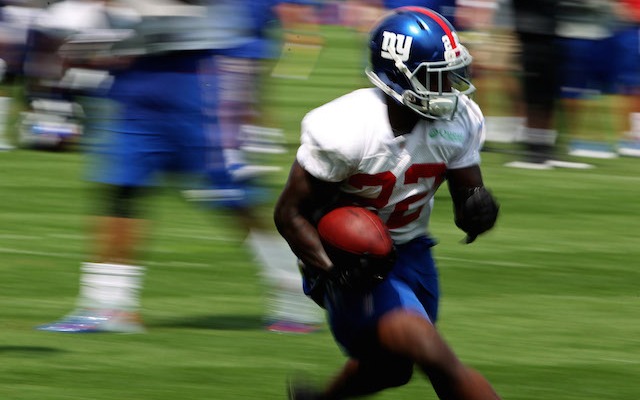 "I don't want anybody to feel sorry for me, or pity me," Wilson said. "I lived my dream. A lot of people only get to dream their dream. I lived that dream. Now I have a chance to dream another dream and live that, too."
Wilson was initially optimistic after suffering the stinger on July 29 and tweeted that he was 'fine' and he even sounded hopeful that he'd be playing again sometime in the near future.
Left practice early yesterday but everything turned out to be fine once the Dr. Looked @ me plus I… http://t.co/HjL5r5GrNr

— David E. Wilson (@4stillRunning) July 30, 2014
The Giants then held Wilson out of practice until Monday when he was re-examined by his team of doctors. 
The 23-year-old suffered a neck injury in Week 5 last season that originally looked like it didn't need to be surgically repaired. However, Wilson was never cleared to return in 2013 and the Giants eventually put him on injured reserve in November. 
In early January, Wilson underwent a spinal fusion surgery that threatened his career. The running back went through several months of rehab though and eventually made his way back onto the field in July for training camp where his latest setback happened. 
If Wilson is done for good, the 2012 first-round pick will finish his career with five touchdowns and 504 rushing yards in 21 games. 
"I'm thankful that I can literally walk away from the game and that I am healthy and capable of doing the same things I have done all my life, except play football," Wilson said.
Martin seems likely to become the highest-paid guard in the NFL

Bridgewater is still recovering from the traumatic knee injury he suffered last year

This is the second off-field incident that has landed Tretola in the news this offseason
The Clemson coach believes his former quarterback has that 'it' factor

The Cardinals quarterback thinks he has more velocity than in years past

The Cowboys owner and GM insists that there isn't a lack of leadership in his team's locker...