Goodell on Redskins name change: Ultimately, it's Dan Snyder's decision
NFL Commissioner Roger Goodell said on Wednesday that the decision to change the Redskins name falls on one person along: owner Dan Snyder.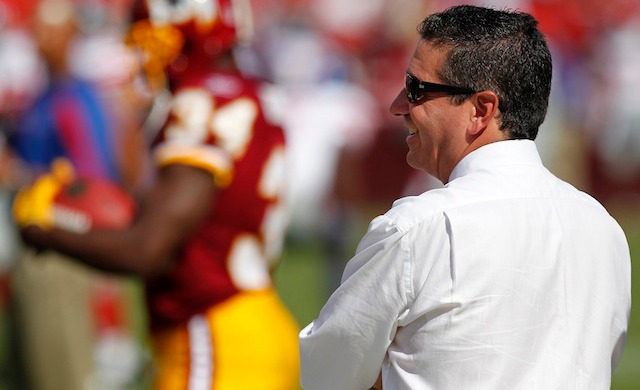 Roger Goodell's stance on the Washington Redskins team nickname appears to be softening a little. Back in June, Goodell wrote a letter to Congress defending the Redskins team nickname, calling it "a unifying force that stands for strength, courage, pride and respect."
On Tuesday, Goodell told WJFK-FM in Washington D.C. that if fans are offended, the league needs to listen. However, don't look for the league to jump in on the issue because Goodell also said the name change is one person's decision and that person is Redskins owner Daniel Snyder. 
"If one person's offended, we have to listen," Goodell said, via the DC Sports Bog. "And ultimately, it is Dan [Snyder]'s decision. But it is something that I want all of us to go out and make sure we're listening to our fans, listening to people who have a different view, and making sure that we continue to do what's right to make sure that team represents the strong tradition that it has for so many years."
There's definitely at least one group of people in Wisconsin offended: A Wisconsin tribe will be at the Packers-Redskins game on Sunday to protest the Redskins team name. However, the protest will probably have little effect on Snyder, who said in May that he "will never change the name of the team."
If Snyder's not willing to change the team's name, it seems like Goodell is basically saying the league can't do anything about it. 
Show Comments
Hide Comments
Plus Seahawks eschew needs on the line and Rams seek help for Goff as we hand out NFC West...

Plus Saints and Falcons load up on defense as NFC South gets a massive boost in talent

Lions draft for now, Packers run down their checklist and Vikings find a runner in our NFC...
Plus Giants do a lot with a little and Eagles and Redskins face durability concerns in our...

Plus Broncos and Chargers help their QBs while Raiders gamble big in our AFC West grades

Texans pin hopes to Watson, new Jaguars must focus and Titans help Mariota in our AFC South...