Google Maps says 49ers new stadium is also Seahawks new stadium
If you look on Google Maps, it's a little confusing about which NFL team will be playing at Levi's Stadium this fall.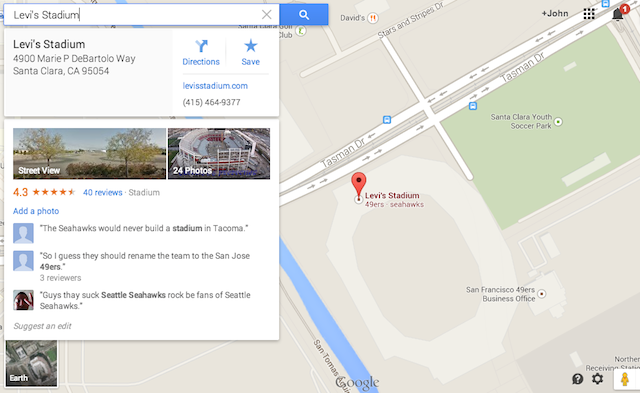 Apparently everything in the Bay Area belongs to the Seahawks. First, the transit system in San Francisco changed its seats to Seattle's colors, now Google Maps is saying that the 49ers new stadium in Santa Clara is the Seahawks new stadium too. 
Google knows everything, so we'll just have to go with their word on this. 
Just in case you're wondering what the 49ers new stadium would look like in Seahawks colors, someone on the internet went ahead and took care of that for you.
Seattle fan trolls @49ers by re-designing Levi's Stadium in Seahawks colors. Note the scoreboard (via @mrtommygman) pic.twitter.com/7SDQJDlOK9

— Mike Rosenberg (@RosenbergMerc) April 22, 2014
(Wink of the CBS Eye to Mike Rosenberg)
Show Comments
Hide Comments
Our Latest Stories
Maualuga was Cincinnati's starting middle linebacker for most of his eight seasons with the...

Stewart has been overworked the last two years and his efficiency has suffered

Arians tore his rotator cuff in December
Peterson says it's not about the money

Richard Sherman also stood up for Kaepernick

If he does get dealt, Sherman thinks the Seahawks will miss him when he's gone