Guess who had the NFL's top-selling jersey in 2013
Peyton Manning and Tom Brady had two of the top-5 highest-selling jerseys in 2013. The other three top-five players? All in the NFC West.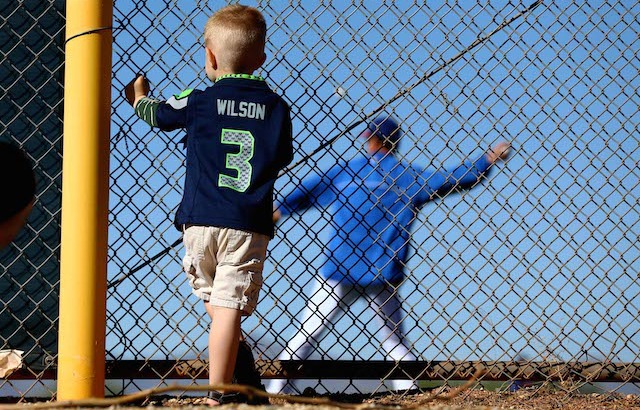 Winning a Super Bowl is always a good thing when it comes to increasing jersey sales, but it was a really, really good thing for the Seattle Seahawks . 
Thanks in large part to Seattle's playoff run, the Seahawks finished the 2013 season with three of the top-six selling jerseys on NFLShop.com. Quarterback Russell Wilson finished 2013 with the NFL's top-selling jersey. Running back Marshawn Lynch finished with fifth-highest selling jersey and cornerback Richard Sherman ended the season with the sixth-highest selling jersey. The sales were counted from April 1, 2013-Feb. 28, 2014.  
How big was the Seahawks Super Bowl bump?
Leo Kane, the NFL's senior vice president of consumer products, told the Seattle Times that it was "one of the best we've ever had, if not the best ever."
Here's how big the bump was: On Dec. 31, Wilson had the third-best selling jersey, Lynch was at 11 and Sherman was 19th. In a period of only two months, Wilson moved up to No. 1, while Lynch and Sherman both moved into the top-six.
Back in September, Sherman's jersey wasn't even in the top-25.  
As for Wilson, anything with his name on it seems to be selling, his Texas Rangers jersey has also been a top-seller. I know what you're thinking, and no, Wilson's jersey doesn't come with a free volleyball. 
WILSON!!! @Seahawks fans are the best! #12parade #Celebrate48 http://t.co/JUQCgXTBQX @DangeRussWilson pic.twitter.com/XCKzZwVp6M

— Jenn Banday (@jjbanday) February 5, 2014
The most impressive part of the jersey sales list though is probably Tom Brady checking-in with the fourth-most popular jersey. Brady's been the New England Patriots full-time starter since 2001, so you'd think everyone in Boston would own at least three Brady jerseys apiece by now.
Oh and just in case you're wondering, last year's top-selling jersey was Robert Griffin III . RG3 fell all the way to 11th this year, which would put him behind the Seahawks '12th Fan' jersey. Yes. That's right. A No. 12 Seahawks jersey that says 'Fan' on it, would be ranked 10th on the list below, according to ESPN.com. 
Top-15 selling NFL jerseys from April 1, 2013 to Feb. 28, 2014
1. Seahawks QB Russell Wilson
2. Denver Broncos QB Peyton Manning
3. San Francisco 49ers QB Colin Kaepernick
4. Patriots QB Tom Brady
5. Seahawks RB Marshawn Lynch
6. Seahawks CB Richard Sherman
7. New Orleans Saints QB Drew Brees
8. Minnesota Vikings RB Adrian Peterson
9. Green Bay Packers QB Aaron Rodgers
10. Miami Dolphins QB Ryan Tannehill
11. Washington Redskins QB Robert Griffin III
12. Detroit Lions WR Calvin Johnson
13. Dallas Cowboys WR Dez Bryant
14. Philadelphia Eagles RB LeSean McCoy
15. Carolina Panthers QB Cam Newton
Show Comments
Hide Comments
The Steelers quarterback is focused on 2017 now

The former 49ers coach admits it was his fault

Johnson talked to Roger Goodell a few times before the rule change on TD celebrations was...
Franchise QBs are the only road to success nowadays; unfortunately, they're impossible to...

The wide receiver isn't in the best shape of his life after a down 2016 season

Colleen Smith joins Jen Welter and Kathryn Smith as women who have held NFL coaching posit...