Harvin won't be on injury report until he's moved to active roster
Don't look to the Seahawks for injury for help on Percy Harvin's status. Seattle doesn't have to disclose his health until he's placed on the 53-man active roster.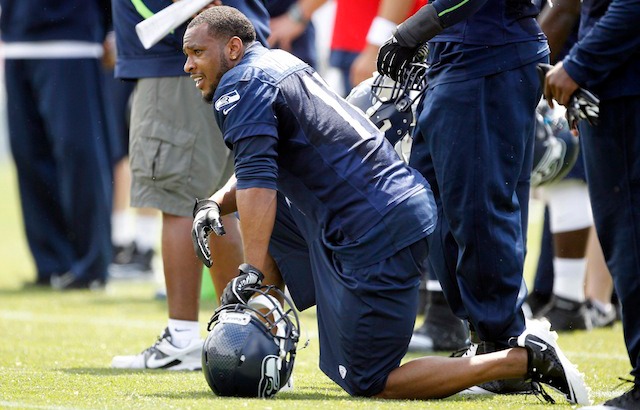 Seahawks wide receiver Percy Harvin wasn't listed on Seattle's first injury report of the week on Thursday, but that doesn't necessarily mean he'll play against the Rams on Monday night.
The Seahawks didn't have to list Harvin on the injury report because he's not on the 53-man active roster. Harvin, who underwent hip surgery on Aug. 1, was placed on the physically unable to perform list on Aug. 27. The PUP designation meant that Harvin would have to miss at least the first six weeks of the season. 
Harvin ended up sitting out the first seven weeks before finally returning to practice on Tuesday. Now that Harvin's back with the team, the Seahawks have 21 days to move him to the active-roster. Until Harvin's on the active-roster, the Seahawks aren't required to list him on the team's injury report. 
This means even if Harvin was 'questionable' this week, the Seahawks wouldn't have to disclose that until he's been placed on the active-roster. Harvin will have to be on the 53-man active-roster if he wants to play against St. Louis, but the Seahawks still have a few days until they have to make that decision. 
After Harvin's first practice on Tuesday, coach Pete Carroll didn't offer any hints about whether or not Harvin would play.
"He's got to get through normal days of practice and we'll see how he handles it," Carroll said, via the Tacoma News Tribune. "With the thought we've been going with all along is to take the conservative approach and make sure our guys are healthy and so we're going to continue to do that. We've waited this long to get him here; to this point. So we'll just continue to take our time and see how he goes. The workload will increase, as we go through the week and next week and all that and we'll just see what happens."
If Harvin's not ready to go, the latest he could make his regular season debut would be in Week 11 when the Seahawks host Minnesota. The former Viking is probably going to do his best to make sure he doesn't miss that game.
Cowboys fans could be on the verge of hearing what will happen to the star running back

Even a Giants player has to admit the Cowboys look pretty good

The oft-troubled cornerback is once again suspended by the NFL
McDermott is replacing notorious defensive specialist Rex Ryan in Buffalo for the head gig

According to a report there is pressure from other NFL owners to suspend Ezekiel Elliott

Want to know what Mack stands to make in extension talks? Just look at recent top deals and...