Heath Miller: 'A chance' he could be ready for season opener
Steelers tight end Heath Miller is still progressing from last season's knee injury. He says there's a chance he'll be ready by Week 1.
• 1 min read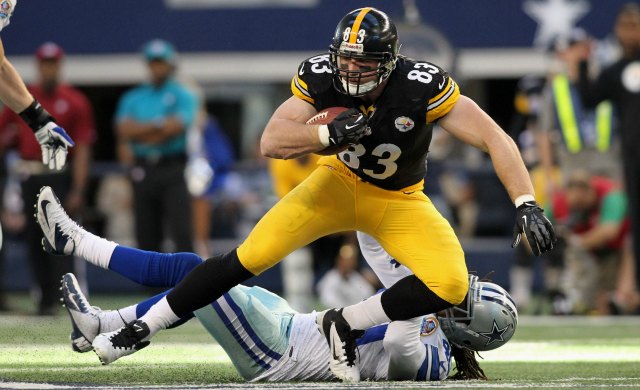 On the same day in December 2012, Steelers tight end Heath Miller was named the team's MVP and underwent surgery to repair the multiple ligaments in his right knee (the ACL, MCL and PCL) that he had torn in Week 16.
Miller, 30, though not rated among the game's best tight ends, was a huge help for quarterback Ben Roethlisberger last year, hauling in a team-high 71 catches for 816 yards and eight touchdowns. The big question, though, is if Miller will be 100-percent healthy in time for the 2013 regular season.
The answer, at this point, is somewhat ambiguous. But it doesn't sound like great news, either.
Miller said, via ESPN.com, there's "a chance" that he could be ready for the season opener. He also said, "I'm just trying to get better every day, and I'm doing what I've been asked to do. And I'm listening to my body, so I'll just progress that way."
With receiver Mike Wallace leaving for Miami via free agency, it's imperative that Miller returns to the team as soon as possible. Especially since Miller's backups, Matt Spaeth and David Paulson, aren't known as pass-catchers (Paulson was a seventh-round pick in 2012, and Spaeth's career high is 17 receptions).
There was speculation that the Steelers, facing the uncertainty surrounding Miller's health, would draft a tight end, but in the end, they declined to do so. Which probably made Miller feel OK about things. Plus, he's progressing in his rehab.
"I'm running now," Miller said, via the Pittsburgh Tribune Review. "I'm doing everything. I'm not at full speed, but I've been able to do everything that they've asked me to do. So, I'm pleased and encouraged. It's been a long process, and it's still going to be a long process. But I'm going to keep taking it one day at a time and get better every day."
Show Comments
Hide Comments
Kyle Long is back at it as one of the most entertaining players in the league

Bashaud Breeland's arrival at training camp was memorable for one reason

A team that desperately needed a backup last year tops our rankings
Fitzpatrick can earn $3 million more if the Jets win the Super Bowl

The Broncos are giving Von Miller lots of money hoping he delivers like he did in the play...

Both the Bengals and the Ravens send more representatives to the team than the Steelers