Here's how open Gronk was on the Patriots' missed two-point try
This one might haunt Pats fans.
You know the situation. Tom Brady and Rob Gronkowski had just worked the New England Patriots down the field near the end of the AFC title game to cut the Denver Broncos' lead to 20-18.
Brady had hit Gronk for 40 yards on fourth-and-10 from the 50-yard line, then found him again on fourth-and-goal from the 4-yard line to put the Pats in position to attempt a game-tying two-point conversion.
The Broncos defense needed one stop on a 2-point conversion attempt. They got it. #NEvsDEN #BroncosCountryPlayoffs https://t.co/DJ2NDlT5Et

— NFL (@NFL) January 24, 2016
Brady rolled out of the pocket almost immediately upon the snap, anticipating pressure. He was right. The pressure came pretty much right away. But then he tried to throw back across his body to Julian Edelman and had the pass broken up and then intercepted.
That's a tough throw to make, and it seems like maybe he should have taken this one:
Gronk was wide open on the 2-pt try. Brady looked him off: pic.twitter.com/VCXheI6v24

— Cian Fahey (@Cianaf) January 24, 2016
It's possible that Brady saw something else during the play, of course, but man, it's tough to see not throwing Gronk's way with that much open space in front of him, especially after the back-to-back catches over the top of multiple defenders Gronk had just made.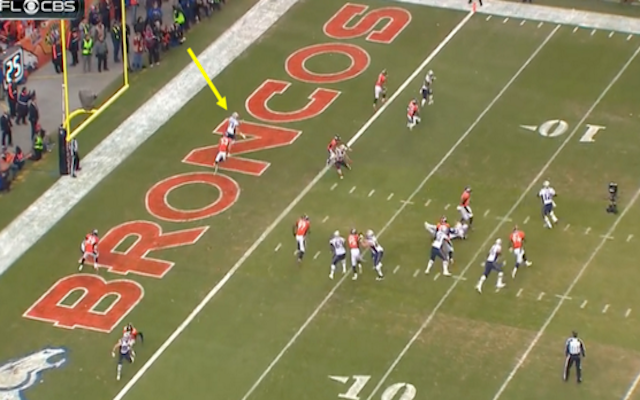 Show Comments
Hide Comments
Our Latest Stories
Peyton Manning? Yup. Brett Favre? Yup. Jim Kelly? Yup.

The suspended Patriots quarterback decided to spend Week 3 of the NFL season in Europe

This is not how you run a two-minute drill
Eli Manning will be without his best pass-catching running back for the rest of the season

Wilson left the Seahawks' win over the 49ers with a knee injury while Rawls was inactive for...

Snead has been a reliable target for Drew Brees this season